Problems With Your Automatic Watch? What's The Cause And How To Solve It?
If you are unlucky, you might encounter some problems with your automatic or mechanical watches.
Depending on the severity, the steps to correct it will differ. Some of them can be severe that require a full service while some of the minor problems can be resolved by yourselves.
Here, I've listed some of the common problems with automatic watches, what causes these problems and how to solve them.
Table of Content (Click the subtitle to go directly to the section):

As great as they are, automatic watches are not free of problems. By having some knowledge about what we should and shouldn't do to it, we will be able to avoid costly repairs. (shown above is the gorgeous Seiko SARB033)
1- Automatic Watch Stopped Working While Wearing It
Ever having problem with your watch stopped working while wearing it? If its a quartz watch then most probably the battery is dead but automatic watches don't have any battery and supposed to be powered by your movement right?
Well you are correct but there are some reasons why a watch can go dead. There are 3 common causes of why an automatic watch can stop working:
Cause 1 – Not Enough Power Reserve
Something that most people don't know it the watch might not have enough power reserve even though you are wearing it regularly.
But aren't automatic watches are recharged by wrist movement?
The reason is because you are not active enough to wind the mainspring fully.
Try this: take a watch with an exhibition caseback and shake it to see whether the self-winding rotor rotates or not. It is easy for the rotor to moves?
Some watches can have a very smooth rotor that rotates lively even with a slight movement. But some watches have rotor that requires more effort for it to rotate.
Due to this, just wearing your automatic watch to office might not be enough to wind it fully. Consider wearing your watch when you are jogging, swimming or going to gym (if your watch is a sports watch.
Don't do this with a dress watch though. You don't want to scratch that pretty thing lol).
Another method that I like and personally use is to manually wind your watch once a while. This will make sure the watch has full power reserve as just wearing it might not be able to recharge it fully.
Just be careful to not over-wind it or wind it too often as you might break the delicate parts inside.
A video showing how to wind an automatic watch. Shown in the video is the gorgeous Rolex Submariner
Cause 2 – Magnetic fields
Exposing your watch to strong magnets such as in speakers, fridges, etc will magnetized the steels inside your watch.
The result?
The small steel components inside your watch will tend to stick to each other or repelling each other (depending on the pole) and reducing accuracy of the watch (the watch will run slower or faster).
But for extreme case of magnetization, the watch will completely stop. Bring you watch to a watch maker to check for magnetization and then demagnetize the watch.
Cause 3 – Serious Problems With The Movement
If your watch still stops even though you wind it everyday and no magnetization is known, then there could be a serious issue with your watch's movement. Bring the watch to a watch maker and let him check the watch for any problem and servicing.
If the watch is still under warranty, you can bring it to the seller for inspection or replacement. Bear in mind that full servicing can cost some money depending on the watch make and severity.
Popular and affordable movements such as Swatch ETA, Seiko and Orient movements are easier to be serviced by just about any competent watchmaker. Costs of parts are also cheaper for these.
But if you have a unique in-house movement by luxury or independent brands, then the official service center is the most recommended avenue. I certainly won't trust my $10k Rolex on any normal watch shop…. you get what I mean right? =P
(Read also the 10 Best Affordable Automatic Watches Under $200 – who said that automatic watches need to be expensive?)
2- Automatic Watch Stopped Working After Taking It Off / Power Reserve Problem
You wear your watch for some time, then put it off and when you want to wear it back, it is dead? How could this happen?
The reasons for this to happen are exactly the same as the first problem above i.e lack of power reserve (you can refer above for its causes and solutions). Another thing to note is the power reserve of you watch.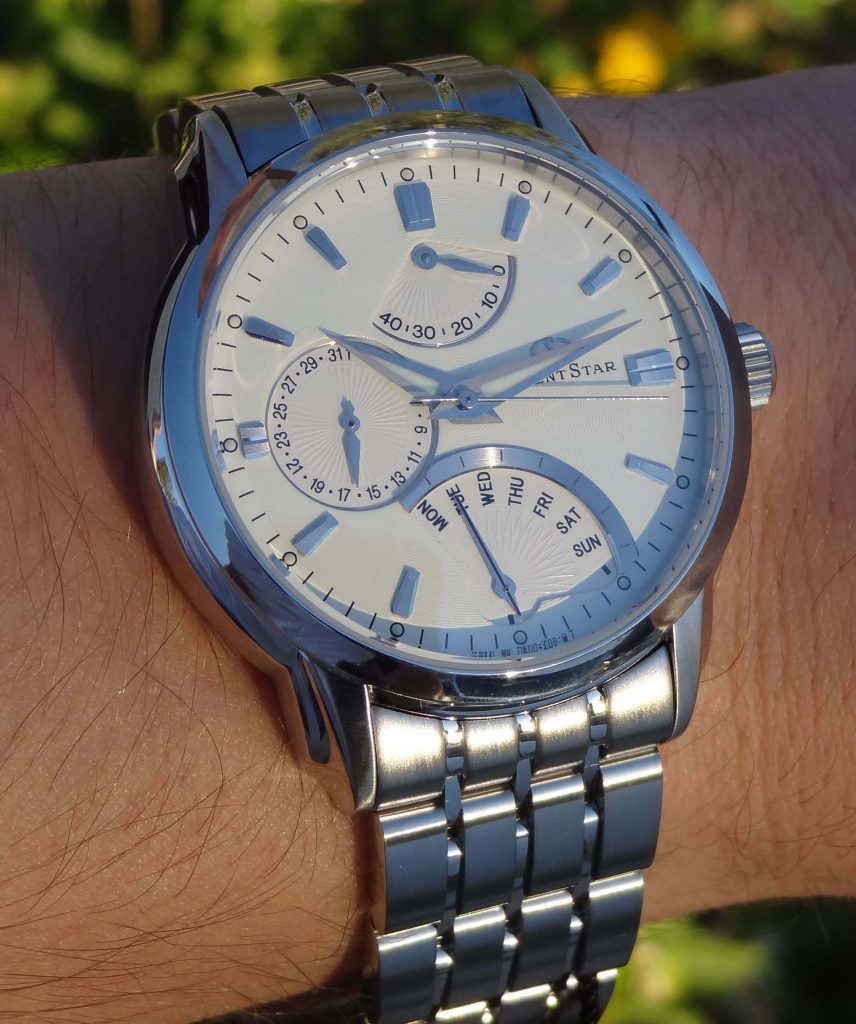 If you are paranoid about your watch's power reserve, then get one with a power reserve indicator like this Orient Star Retrograde. As you can see, the top subdial displays its remaining power reserve which is really handy
Even though your watch's movement might have 40 or 50 hours of power reserve, the watch might stop working even before that.
Why is this so?
One thing that we need to know is the power reserve of any automatic is the time for the watch to stop working after it's been recharged to full capacity.
As I've stated above, usually, wearing it for a day (normal 10 to 12 hours on the wrist) will not be enough to charge the watch to full.
Not to mention most watches don't have power reserve indicator which can be a huge help in telling the power reserve capacity at any moment.
In fact, most experience owners state that the remaining power reserve of the watch is about 2 or 3 times the last duration we wear it.
So for example, if I'm wearing my watch for 12 working hours today, it will tick for 24 to 36 hours after I put it down. 
What should we do then?
For me, I've always manual/hand-wind my auto watches before I use them. A few turns (15-20) is enough to start the movement and then I just wear it.
The key is to NOT only depend on the self-winding of the movement. As mentioned above, the rotor movement might not be sufficient especially if you're working a desk job without many wrist movements.
In addition, this will keep the accuracy high as the watch has more juice in it.
What if I've tried that but it didn't work!
Then there could be a bigger problem in the watch. Try to handwind it for 40-50 crown rotations and lay the watch down. This will make the mainspring full of power reserve.
Keep record of what elapsed hour the watch stops. If it's less than the published power reserve for that movement, there could be a problem with the movement itself.
At this point, we should bring it to a watchmaker for him to have a look at it. Depending on the case, we might only need a servicing, cleaning, or a change of the mainspring.
By the way, it might also be a good idea to invest in a  watch winder which is a great alternative for those that don't want to have to reset or handwind their watches before they use it.
The watch winder functions by rotating the watch via a motor. Just place the watch inside the winder's slot and plug it in.
It will then rotate the watch, and the self-winding rotor inside it to charge the power reserve.
The watch winder is a great way to ensure the power reserve is still full without us having to do anything. It also prevent from issues due to winding (which can happen to some ETA movements).
By the way, did I mention the watch winders can also be a nice storage box for your watches? =)
I like to also add that the Sistem51 movement by Swatch boasts a 90 hours power reserve. For those that don't want to spend on a winder or just want a watch with great power reserve, you might want to check the Sistem51 watches.
3- Automatic Watch Stopped Working After Dropping It
This cause is easier to understand. You drop the watch, it get into a sudden impact and suddenly it goes dead. Well chances are your watch might have some internal damage in it.
The inside of an automatic or mechanical watch is made of hundreds of parts that work seamlessly to run the watch. These parts can be as small as 1 mm in thickness or diameter. Any sudden impact could put these parts out of place or worse, even break them.
The part that are more prone to impact damage is the balance wheel. The pivot/staff of the wheel balance is a very critical part because it holds the weight of the balance wheel which is continuously moving at a high speed.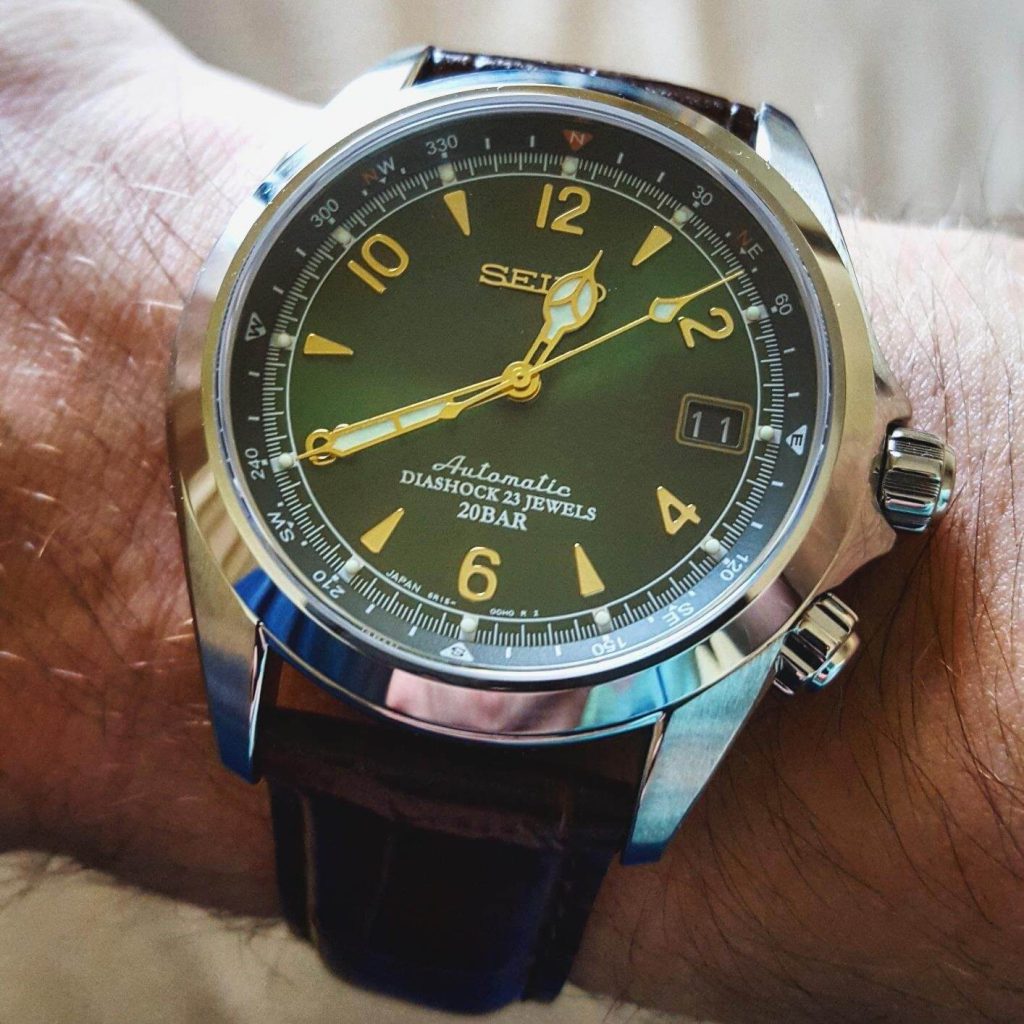 This Seiko SARB017 (or Alpinist) has a built in shock resistance system developed by Seiko – i.e Diashock – to protect its balance wheel jewel from severe impact damage. All good outdoor or diver's watches should always have this to protect it from costly repairs
Most damages due to impact is because of broken wheel balance pivot and/or its jewel.
If your watch stopped working after dropping it, try hear if there is any sound in the watch to know whether your balance wheel is functioning or not.
If your watch has exhibition caseback, you can just confirm this by looking directly at the balance wheel to spot anything wrong with it. The only solution is to bring the watch to a watch maker for a repair.
Some shock protection system has been designed to protect automatic/mechanical watches from impact damage, specifically the jewel.
Incabloc (from Swiss), Diashock (Seiko) and Parashock (Citizen) are some of the shock protection systems that have been devised by watch companies. All of them have some sort of spring at the jewel pivot of the balance wheel to protect it from impact force.
If you are a rough person that tends to get his watches damaged this way, you might wanna check out those watches with a shock protection system in them.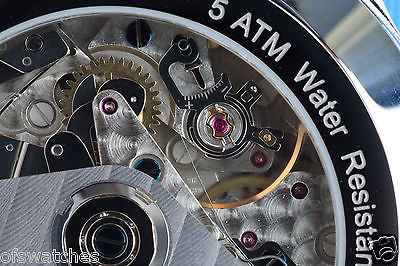 Balance wheel is the part inside an automatic watch which is most prone to impact damage
4- Automatic Watch Running Slow Or Fast
Automatic and mechanical watches will always run slow or fast after some time. The most accurate watches are the COSC certified chronometers that can have a -4 or +6 seconds per day accuracy.
Other watches can have a lesser accuracy than this and you have to check the official numbers by your watch manufacturer. But generally the accuracy values is within +/-25 seconds a day for a low end range of automatic watches.
If your watch have a lesser accuracy than this then this indicates a problem with your watch. There are 5 reasons why automatic watches will run slower or faster than acceptable accuracy:
Cause 1 – Not Enough Power Reserve
Accuracy of a movement is tracked at maximum power reserve, after a watch has been fully wound. If a watch is not fully wound (or power starved), then the accuracy will be slightly lesser than what your watch manufacturer advertised.
Try to at least wind it once a while for it to have a full power reserve. You will notice a difference with the accuracy compared to when the watch just relied on wrist movement.
Cause 2 – Temperature
Another important thing that most people don't know is that your watch have different accuracy in different temperatures.
Too hot (more than 38 degrees Celsius) or too cold (less than 15 degrees Celsius) will affect the metal parts inside the watch. Steel will expand at high temperature while contracting when it's too cold. Coldness can also affect the lubricants inside the watch.
Most of the times it's the coldness that affect the accuracy since it will take a very high temperature to make a difference – not all of us live in scorching hot desert.
But coldness especially during winter can change how the watch behave. It will run slower a bit if exposed to cold weather and might have shorten power reserve. But the effect of coldness will not be apparent if you are wearing the watch though as our body temperature will heat the watch up.
Cause 3 – Position
Watch movements accuracy is highly affected by the balance wheel and escapement. These systems can be affected by the position of the watch due to gravity. Examples of watch positions is flat with dial/watch face looking up, dial down, vertical positions with different locations of crown.
As you can suggest, the dial up or down is basically when you put the watch on a table/closet after wearing it during the day. The vertical positions are during wearing the watch.
During each of these positions, the effect of gravity will cause the balance wheel to have a slight change in movement causing some inconsistency. Most watches are most accurate at one or two of these positions.
When you put the watch at other positions, the accuracy will suffer. This is the main reason why chronometer is highly sought after – they are designed and adjusted to be accurate for all positions.
My suggestion is to keep track of what position your watch is most accurate and what position it isn't. You can use apps to help with this. Just search for watch accuracy in appstore/playstore.
Normally these apps will have you set the watch to accurate time in the beginning and then you can record the time at intervals and it will report the accuracy in seconds per day. By doing this, you will know what position your watch is most accurate and use it consciously.
Cause 4 – Magnetism
As stated above, magnetism of watch can greatly reduce accuracy. It's highly recommended to avoid placing your watch next to any digital or electronic devices to avoid magnetism.
Case 5 – Due For Service
Just like a car, automatic and mechanical watches also need to be serviced after some time based on manufacturer's recommendation. This is one of the biggest flaw of automatic watches versus quartz watches.
Because of the high number of moving parts inside it, automatic watches need to be serviced to keep the movement well oiled and also to adjust the balance wheel and escapement. Generally, 3 to 5 years are the normal service interval. Don't skip this if you want to keep that watch as heirloom for your grandson =)
(Read also the 30 Best Automatic Watches Under $1,000)
5- Fogging Inside Watch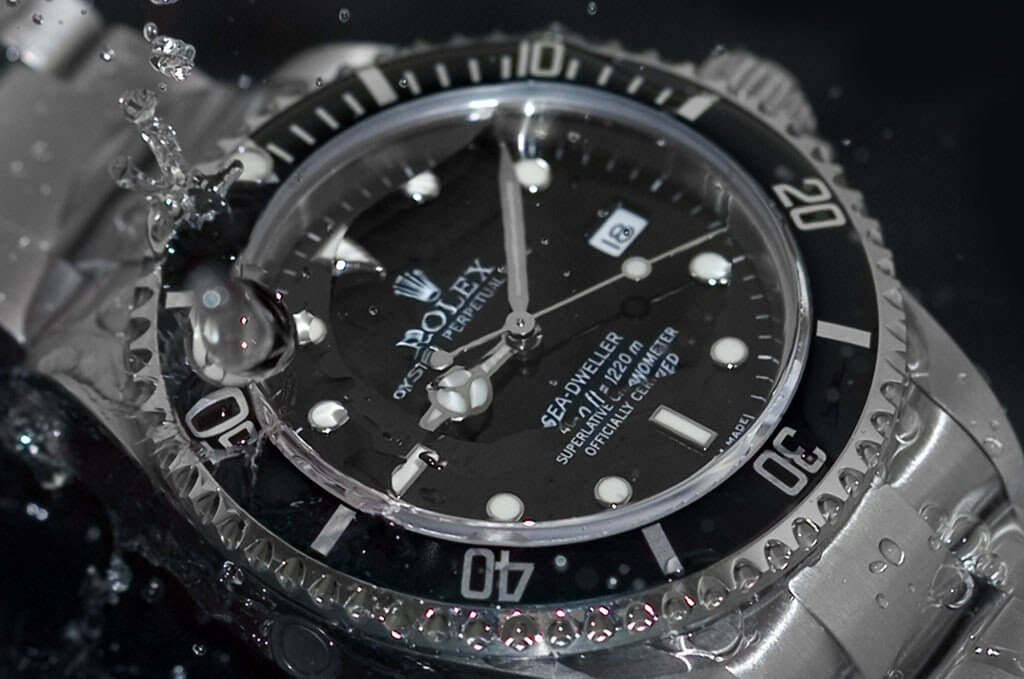 Some watches especially dive watches has screw down crown for added protection. The dial window and caseback is easily guarded from water ingress by gasket and seals.
Since the crown is used for manual winding and setting the time, it has a staff that is connected to the movement inside the watch. The small gap between the staff and the casing is the perfect place where water can get in.
Screw down crown solves this problem by screwing the crown into the case, and eliminating any possible gaps between them.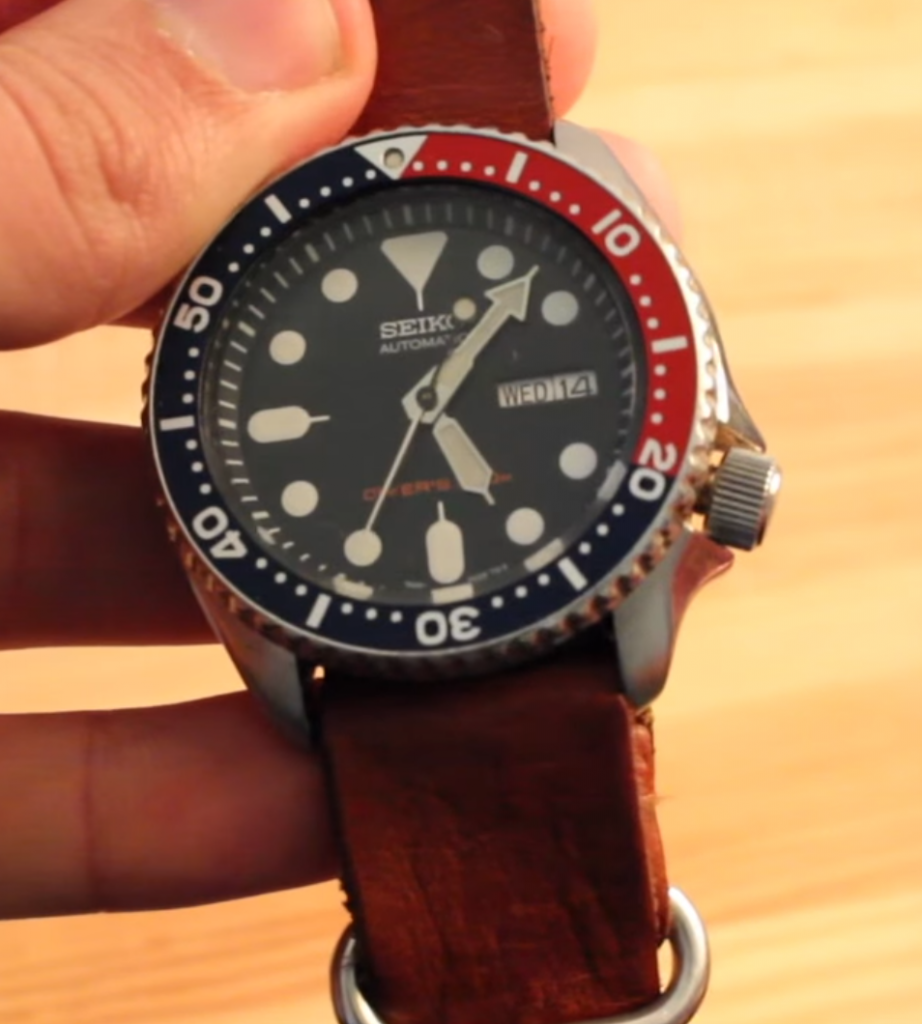 Shown above is the Seiko SKX009 with its crown unscrewed. Remember that screw down crowns MUST ALWAYS be screwed properly at all times even when storing the watch – except when using the crown of course.
But it has to be reminded that the screw down crown must always be screwed in tightly when you are using the watch for any activity especially swimming or diving. The crown must not be operated while underwater for, well.. the reason is obvious right.
It is also recommended to get your dive watch to be tested for water resistance after a few years. It is worried that the gasket and seals of the watch has already worn out.
If you are a serious diver, then it is very important to ensure your watch is always in perfect water resistance condition to avoid any unwanted problems.
6- Minute Hand And Second Hand Not Perfectly Aligned
A common issue with automatic watches is the minute hand and second hand are not perfectly aligned.
For example, when the second hand is at the 12 o'clock position, the minute hand is not perfectly on top of any minute marker.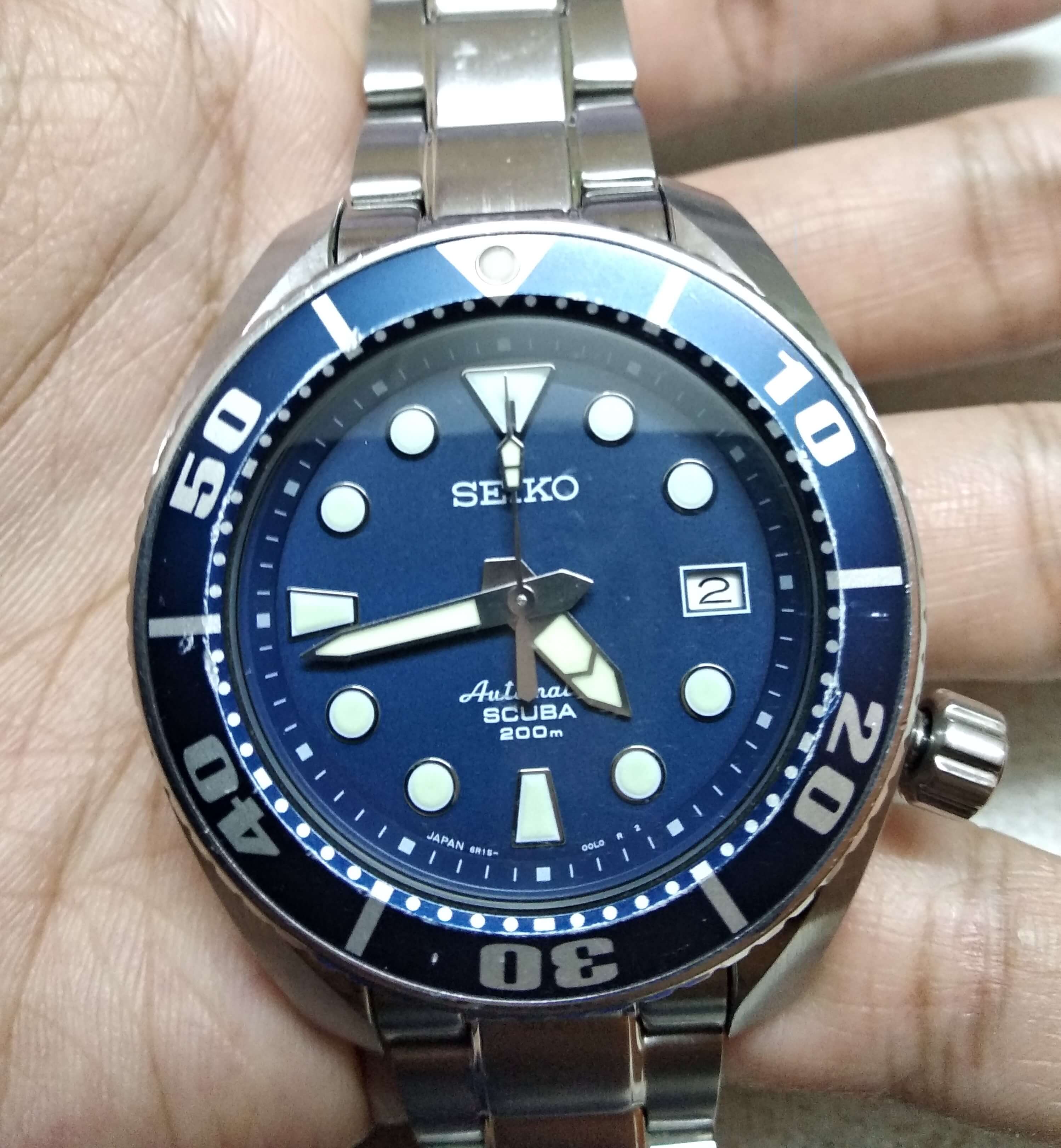 An example of how not setting the time correctly can cause the minute hand not sitting directly on the minute marker when the second hand is at 12 o'clock. By the way, there's no problem with the watch and this can be fixed easily.
This is caused by improper setting of the time when first bringing the watch from stop.
To be honest, this does not mean there's any problem with the watch. The watch is running fine but to people with a keen eye for detail, this is not acceptable.
Personally, I also don't like this, but not because it doesn't look nice. For me, a watch need to be easy to tell and having a non-perfectly aligned minute hand makes the time telling unusual and weird.
So what do I do to avoid this problem?
I'll stop the second hand exactly at the 12 o'clock position and then move the minute hand to be perfectly on top of the minute marker.
While this is easy to do with a hacking movement, it's a bit more difficult with a non-hacking movement (such as the 7S26 inside Seiko's SKX watches).
For those movements, we need to be more precise as the second hand does not stop. So the moving of the minute hand need to be on-point when the second hand passes the 12 o'clock.
7- Automatic Watch Not Winding
If you feel there's a problem with the hand-winding function, try to let the watch stop on its own.
Then pick it up and give it some hand-winding. The watch should start after a few turn of winding the crown. If it isn't, this means there's a problem with the movement and a visit to your watchmaker is need to resolve it.
8- Date/Day Display Don't Change At The Right Time
A common issue that I've personally faced is the date and day indicator don't change correctly.
I'm sure those using analog watches with either one of this feature will experience the date/day suddenly change around noon.
The only reason for this is incorrect setting of the day/date.
We need to remember that automatic watch is not like an electronic watch. It does not know the current time (i.e am or pm). Which is why the day/date will simply change once the hour hand completes 2 rotations (or 24 hours).
So what's the correct way of setting the day and date display?
Below is the step by step guide on how I change my date/day display on my watches:
When first picking up the watch, move the time until the hour hand is at 12:00. See if the day/date change or not.
If the day/date change – means the watch just enters 

AM

mode
If the day/date does not change – means the watch just enters 

PM

mode
From there, you can set the time according to your current time.
For example: if you move the hour hand to 12:00 > day/date change means the watch just enters AM mode > but you're in the afternoon > move the hour hand a full rotation (12 hours) to enter PM mode > then set time and day/date.
[UPDATE]
Currently I don't use the method above when setting my watches and prefer another method. Below are the steps of this method:
Change the date and day to ONE day before the current day. E.g if today is May 15 Sunday, then we need to change the date to 14 and the day to Saturday.
Move the time needle to 12:00 and notice the change in date/day window.
If there is no change, that means the watch's internal time is in PM mode. Another rotation of the watch will change it into AM time of the current day. We can adjust accordingly from here.
If the day/date change, it means the watch just enter today's time in AM mode. Again, we need to adjust the watch accordingly.
Watch the video about for the summary of the common problems with automatic watch
End Thoughts
Automatic/mechanical watches are a delicate piece of engineering and should always be treated delicately. Not to mention they cost way more than normal quartz watches. So I'd put them as the fancy sports car – expensive but have to be properly taken care off lol!
Thus, it is important for all automatic watch owners to know what can be done and what cannot be done to prevent from any unwanted and costly problems to their prized watches.
Do let me know if you need any assistance with the problems above. I'll try my best to help you out.
I hope that you guys will find this post beneficial to you. Let me know if you have any comments or thoughts on this matter.
Don't forget to share this article if you like it =)
Till next time. Cheers!
Isaac