One of the things that often confuse me in the past is chronograph watch. It has a cool utilitarian look but what exactly does it do? I've decided to find out about more about chronograph watch and here is what I found.
So what is a chronograph watch? Chronograph watch is a watch with stopwatch functionality (able to track/record time) added to it. So in essence, a chronograph is a two-in-one device whereby you're getting a normal watch AND a stopwatch in a single device.
In this article, I'm going to share with you all I know about chronograph watch: how to read it, how do you use it, its history, the different types of chronograph watches, and lastly, how to choose a suitable chronograph watch for you. So if you're interested, keep on reading!
Table of Content:
How Do You Read Chronograph Watch?

Chronograph watch can be quite confusing (especially the analog type), but trust me, once you've got the hang of it, it will be easy to read. Let's get into the analog type first as it's the harder one to read.
First of all, there are many subdials (or the small circles on the dial) that will be used to tell time. I'm sure you're well aware about the normal 3-hands analog watch (1 hand or needle each to show the hour, minute and second). The subdials are placed on the dial to show/record the time for the chronograph.
There will be a dedicated subdial to show the seconds (placed at the below part of the watch pictured here), a subdial for minutes (left side) and a subdial for hours (right side). If you look closely, you will notice that the seconds and minutes subdials have 60 parts while the hour subdial only has 24 parts (denoted by its markers).
This shows that this particular chronograph can only track time up to 24 hours since that's the maximum hours that it can display on its chronograph subdial. This is important to know about because some chronographs can only show lower amount of hours while others can go on for longer.
This brings me to another point: there are many chronograph designs out there. For example, the subdials can be positioned elsewhere, there might not be a seconds subdial and instead it will use the main seconds hand for chronograph, there might not even be a subdial for hours, etc.
It's good to know that many chronograph design exist and you just have to figure it out by yourselves by remembering the basic anatomy of it.
For a digital chronograph, things are much simpler as the tracked time is displayed right there on the screen. There's not much guess work needed here.

How To Use Chronograph Watch?
Using a chronograph watch is easy and is similar whether you're using an analog or digital types. There are 2 different buttons (or pushers, as it's called in horology) that are normally positioned on the right side of the watch, at 2 and 4 o'clock positions.
Normally, the top pusher is used to control the chronograph. A single push will start the chronograph and you can see the seconds hand starting to move to record time. Pushing this pusher again will pause it, and you can resume the time by pushing it again.
The bottom pusher is used to reset the chronograph. So say you've started the time and pause it, you can reset it all back to zero by pushing the bottom pusher.
Now, this is the basic and most common way on how to use a chronograph watch. Certain higher end chronographs will have more functions (more on that later on), and hence it will be more complicated to use it. If in doubt, I highly recommend reading the user manual for your particular chronograph watch so that you will fully understand how to operate it and get the best out of it.
What Are The Uses Or Functions Of Chronograph Watch?
Basically, you can use a chronograph watch as a timer to record the time of anything, such as a racing event, examination time, for cooking (the time for something to finished cooking based on the recipe), swimming – basically anything that requires some timing can be done using a chronograph.
Without a doubt, you can always do these timing mentally by using a normal watch (subtracting the current time with the time you started the activity/event). But of course, it's not an easy task, especially as you've grown older. In addition, some events can last only few seconds making it harder to track using normal watch.
That's where a chronograph comes in. As a stopwatch, it's really easy to use and will make tracking the duration of any event much easier, not to mention more accurate. In fact, one of its first wide use is to help officials time horse racing events.
Bezel Scales Used On Chronographs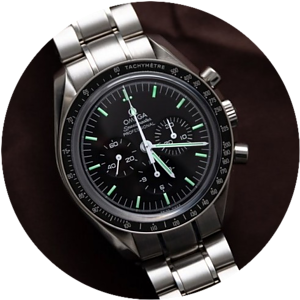 Chronographs have been widely popular among flight pilots due to its ability to help in speeding up calculations for speed and precise timing, and this is thanks to the bezel scales.
In addition to being able to track time, chronographs were also equipped with bezel scales that can be used to help aviators or anyone easily.
So what are the bezel scales used on chronographs? There are about 4 different types of bezel scales mainly used in chronographs nowadays: tachymeter, telemeter, pulsometer and slide bezel rule.
The first is tachymeter, the more popular of the bezel scales (I'm pretty sure you can spot this word on the bezel of many chronographs). Tachymeter scale is used with the stopwatch to do rapid calculations on the speed of an object, provided the event lasts more than 7.2 seconds.
To use the tachymeter, you will need to know the distance of what the object will travel. Start the chronograph once it's at the starting point and stop it after 1 mile or 1 km (the scale is unit less). The seconds hand will show the elapsed time the object traveled/flew in the 1 mile or km, as well as pointing to a number on the tachymeter scale. This number is the speed of the object in miles per hour or km per hour (depending on the length chosen to do the measurement).
Although tachymeter bezel scale is not really that easy to use (you still need a rough estimate of the travel length of the object), it's a great little device that can be used easily with ample training. It's also a real fun device to be used when visiting the race track as you can easily use it to know how fast your favorite racer is going.
The second bezel scale is telemeter and is the less frequently used scale of the two. If the tachymeter helps to find speed, the telemeter helps to find distance between the position of the person holding the watch and somewhere the event takes place.
The scale uses the concept of the speed of sound, whereby you start the chronograph when an event started (artillery fire, lightning bolt, explosion etc.) and stop it once you've heard it. The chronograph seconds hand will show the elapsed time and also the duration on the telemeter scale (either in km or mile).
Although its a great scale, it's use is not fairly useful for most of us. I'd say only those working with artillery and the likes (e.g military men) will find it useful.
The next scale is pulsometer, that can be used to check the number of pulses per minute and is very useful for doctors. So instead of having to do their own calculations mentally on how many pulses/heart beats per minute, the pulsometer scale helps them to do it easily.
The doctor will need to start the chronograph and count the number of pulses to 15 or 30 (depending on the scale) and stop it once the count is done. The number shown on the pulsometer is the pulses per minute.
There's also another type of bezel scale called the slide bezel rule that is very nifty in making fast calculations. Although you don't need a chronograph to be able to use the slide rule bezel, it's usually placed on top of a chronograph alongside the tachymeter scale. (If you want to know more about the slide rule bezel, read my previous post about it).
Another advantage of having these scales on the chronograph is the extra coolness radiating from the very busy dial. Without a doubt, that's one of the major attraction of the chronograph – it just looks so cool. Yes, it's very nifty to have around but I bet most of us that like it were attracted due to the very cool, stylish and busy dial in the first place LOL!
History Of Chronograph Watch. Who Invented It First?
It's hard to talk about chronograph without looking into its history. One cool fact is the term "chronograph" is a combination of the Greek words "chronos" meaning time and "graph" meaning writing. So chronograph literally means writing time in English.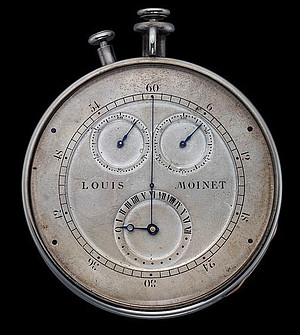 The chronograph or stopwatch with the form as we know it now was first invented by the French horologist, Louis Moinet in 1816. Louis Moinet was a genius in watchmaking and he created the chronograph (named as "Compteur de Tierces") to assist with astronomical equipment.
The first marketable chronograph was invented by Nicolas Mathieu Rieussec in 1821. Nicolas was the Watchmaker to the King of French and invented his chronograph so that the King can timed his horse racing. He was also a businessman and saw the opportunity to market his device to the racing community, and thus spread the use of chronographs.

An interesting story is Nicolas' chronograph was hailed as the first chronograph invented for decades until Louis Moinet's chronograph was discovered in 2013!
What's exciting is how Louis' creation was so ahead of time. First of all, it looks much more like a modern stopwatch (you can just compare the two pictures and tell me which one looks like a stopwatch). It is able to measure up to 60th of a second, thanks to its technologically impressive 216,000 vibrations per hour. This was a big deal as the usual vibrations per hour is around 28,800 times, even to this day!
Louis also incorporated a start, stop and reset function – something that the horology industry only invented in the 1930s. Truthfully, the Compteur de Tierces was groundbreaking and had it been discovered earlier (or had Louis applied for a patent on this), the watchmaking industry will be moving at a greater pace than what it was.
An automatic chronograph (self-winding instead of manual winding) was only conceived in the 1969 by 3 parties: a Heuer-Breitling-Buren/Hamilton partnership with their Chronomatic movement, Zenith with their El Primero and Seiko with Ref. 6139.
The Different Types Of Chronograph Watch
What are the different types of chronograph? There are about 5 types of chronograph currently most known, which are normal chronograph, flyback, rattrapante/split-second, foudroyante and regatta. Each of these have their own functionalities and advantages which I'll explain below.
1) Normal chronograph:
The normal chronograph is the typical stopwatch with normal functionality. It has the most basic functions which are start, stop and reset functions.
2) Flyback chronograph:
Flyback chronograph (also known as retour-en-vol in french) saves time to restart a timing just by pushing the reset button. So instead of having to push 3 times/buttons to stop, reset and start the timing, a flyback chronograph can simplify these actions into one push of a button to reset the time to zero and immediately start the timing.
This functionality is very useful for those that need quick successions of timing with just a single push of a button.
3) Split second chronograph:
A split-second chronograph (also called as rattrapante in french) has 2 seconds hand/needle that can be used to easily track the time of racing laps. The chronograph will start as usual but as you finished a lap, you can push a dedicated split-second pusher to stop one seconds hand whilst the other hand will continue the timing. You can then use this opportunity to record the time on paper. Once done, pushing the same pusher will bring the stopped hand to align with the continuous hand.
4) Foudroyante chronograph:
Foudroyante chronograph is basically a chronograph with the ability to show time measurements up to fraction of a second. There is usually a dedicated subdial for this, with the markings in various fractions of seconds (6, 8 or 10). While this is very easy to do with a quartz-based chronograph to show the 1/10 second fractions, it can be hard to achieve in automatic movement chronograph as the balance wheel usually only has 6 or 8 beats per second, and hence the 6/8 fractions display.
5) Regatta chronograph:
The last, and arguably the rarest and most complex chronograph is the regatta chronograph, which is invented specifically for yachting race events. In the simplest term, regatta chronograph is basically a timer, in which you can input the specified time and then upon activating it, the watch will count down to zero. This is very important for yachting as the signal to start is usually in the successions of 10/5/1 minutes. Hence, a timer is necessary so that all competitors can prepare for the start.
How Does A Chronograph Work? The Different Movements Used In The Chronograph
There are 2 main movements used for chronographs: automatic and quartz based movements. As you might have known, the quartz based movement is also electronically based, hence there is no real technical challenges in making a chronograph as it can be programmed into it. There will be additional motors and bigger battery required for it to work, but these are not really difficult (I mean if mankind can create a watch to take phone calls, its not a big problem to create a watch that can be a stopwatch right?)

The real technical challenge is in automatic or mechanical movement chronographs. As the movement is mechanical based without any electric/electronic parts, the
timekeeping mechanism for a chronograph is much more complex
than a normal automatic watch (hence why chronograph is also one of the "complications" in horology).
There are 2 separate systems with an automatic chronograph: the main timekeeping system and the chronograph system. The main timekeeping system will run all the time while the chronograph is only engaged when it's needed.
To enable the chronograph to start, the connection between the two system/gear trains needed to be done via a coupling. Like any motorized vehicle, this coupling is achieved by a clutch and there are 2 main clutch systems used nowadays which are the horizontal clutch and vertical clutch. Pressing the start button will engage the clutch, couples the chronograph gears to the main gears and starts the stopwatch.
In terms of construction, chronograph movements can be divided into 2 main groups: integrated and modular. The difference between the 2 is the basic design. The integrated design is the best in terms of footprint and volume as the whole watch movement (main timekeeping and chronograph) are designed as one unit.
The other modular design, in comparison, is like Lego in which the chronograph module is added on top of the base timekeeping module. Although it's not as efficient as the integrated design, modular designs has the ability to make the watchmaking less expensive as different modules or complications can be created and used in conjunction with the base module (which can also be used as a normal vanilla automatic watch in itself!).
What Is The Difference Between Chronograph And Chronometer?

Very often, people would confuse between chronograph and chronometer – I know about this all too well because I was also one of them.
So what is the difference between chronograph and chronometer? Basically, a chronograph is a function (watch with stopwatch) and a chronometer is refers to a watch that is very accurate and precise.
And yes, a watch can also be a chronograph AND a chronometer.
Confused? Let me explain.
A chronograph is a watch that has a stopwatch function, just like what was explained in the early part of this article. The easiest way to spot a chronograph is by looking at the watch: if it has additional subdials showing second, minutes and hours, it's most likely a chronograph. In addition, having additional pushers/buttons at the side of the watch is a tell-tale sign of a chronograph watch.
A chronometer, however, is a term affixed to a watch that has outstanding accuracy and precision. A watch can only be called a chronometer once it has been tested by the COSC institute and clears all the requirement for a very accurate watch (you can read about this requirement in my previous post here).
A watch can be a chronograph AND a chronometer if it has the stopwatch function and also has outstanding accuracy, cleared by the COSC institute. I'd have to say this is as good as a chronograph can be with the precision of a chronometer.
How To Choose The Suitable Chronograph Watch For You
Choosing a suitable chronograph can be quite challenging, notwithstanding the many choices around us nowadays. For me, I recommend these 4 criteria (price, movement type, maintenance and style) that you need to assess for yourselves to choose the best chronograph your you.
1) Price
The first factor is price, which is also the main factor whenever you're choosing a watch. The price of chronographs can vary greatly depending on its movement (automatic is much more expensive than quartz), and material and finishing of the watch (a rose gold chronograph is without a doubt more expensive than a stainless steel one).
But, the biggest factor in watch pricing is the brand. For example, a chronograph from Swiss top brands e.g Patek Philippe is more expensive than normal brands e.g Tissot, Seiko. The reason is simple: a top Swiss brand will utilize the best movement, material, finishing as well as being exclusive – hence the reason why it's price can shoot up to the roof.
In comparison, normal brands uses cheaper materials and movement, as well as being mass-produced so that their products is more affordable to the normal people.
To this, I'd suggest getting a rough estimate on what is your budget will be for your chronograph. With this budget, you can then focus on certain brands that has watches inside your budget range, thus making it easier for you to make a decision. I'd also want to highlight that you should also have a budget on the maintenance needed to keep your watch in good condition (more on that later).
2) Movement Type
You can choose between automatic or quartz chronographs. Although automatic chronograph is a great device with the highest form of watchmaking, it's also much more expensive and will be bulky. Not to mention its maintenance will cost a bomb due to the many parts inside it.
In comparison, a quartz chronograph can be very slim thanks to the use of electronics and motors inside it. It's also much more accurate than an automatic chronograph, at a much lower price point. For an average person, I'd have to say a quartz chronograph is your best bet, because of its technical advantage and the high price tag of what the same automatic chronograph can be.
True enough, you can get a vintage automatic chronograph for an affordable price but how long can you keep maintaining it (which will also cost more money down the road).
Another reason why I prefer quartz chronograph is because you can get a solar powered version, and hence make your life more convenient with the solar recharging feature. With it, you can use your chronographs all day long without having to worry about the battery depleting sooner – a solar chronograph is basically the best watch combo there is!
You should also think of any extra functionality that you would require such as flyback, split-second, foudroyante or regatta. If you're into motor racing, then the flyback or split-second would be a good choice to accompany you to the track. The regatta is also useful not only to those into yachting but also because of its timer function.
Again, these functions will be very expensive with an automatic chronograph but will only cost a fraction on a quartz chronograph.
3) Maintenance
Maintenance is also another factor that you need to consider when buying a chronograph. Bear in mind that a chronograph is more complicated than a normal watch and there is a higher probability that something will go wrong with a chronograph than a normal watch. In addition, the chronograph will also need to be periodically maintained or serviced later on (more applicable to analog chronographs).
While we cannot control whether a watch will develop some issues down the road, the only thing that we can do is to assess how much it will cost and the efforts associated to maintain or repair the watch. To this, the automatic chronograph will cost much more to service as it has more components inside it. Not to mention you might need to send the watch to a regional service center, or worse, to its headquarters if your watch is exclusive.
Quartz chronographs also need to be maintained but this usually only involves the periodic battery change. Something could also go wrong with a quartz chronograph but the cost of repair is usually not that significant and it might even cheaper to just buy a new one rather than getting it repaired.
4) Style
The last factor in deciding the chronograph for you is the style. There are various styles that you can choose for your chronograph ranging from dressy, sporty, dive and casual. For me, I'd prefer a more sporty chronographs because you can then wear it to outdoor or racing events. Dressy watches looks great and all, but it's usage is limited and will look out-of-place if used for outdoor activities.
I hope this article about chronographs is beneficial to you. If you have any questions or anything to add, do let me know by commenting below.
Till next time then. Cheers!