A Review of the Citizen Grand Touring Sport
The Citizen Grand Touring Sport watch is something that will surprise anyone not familiar with the Japanese brand.
Currently, Citizen is most famous with its reliable and techie looking Eco-Drive solar watches. I'm sure you have at least seen their watches in ads on TV or elsewhere.
Their flagship Eco-Drive are usually watches with various functions (chronograph, atomic timekeeping, GPS, etc.) and features busy yet cool dials.
Which is why the sight of this Grand Touring Sport watch is a surprise. It's everything that Citizen is not well-known for currently: automatic movement, dive watch and trendy analog style.
Well, actually, Citizen did started with automatic movement and analog watches back when it was founded 100 years ago in 1918.
It's just they have found success with their Eco-Drive models in recent years. But by no means they are forgetting their roots which is automatic movement.
The signature series, of which this Grand Touring Sport is part of, is a testament of that. And they did deliver a great dive watch that does not have the usual look of one.
Without a doubt, the Grand Touring Sport is perfect for those wanting an out of ordinary dive watch.
The Grand Touring Sport features a blue dial on a cushion case with huge crown guard at the side. It's meticulously crafted with Citizen's own in-house Cal. 9012 automatic movement inside it.
And if you feel the square cushion case and crown guard reminds you of another watch, you are not off the mark as it actually resembles (though not accurately) the famous Panerai watches.
In fact, there's also another version of the Grand Touring with the black dial that really looks like the Panerai Luminor. I've included a picture of it at near the end of this article if you want to have a look.
Now, let's get on with the Citizen Grand Touring review shall we.
Citizen Grand Touring Sport Watch Specification (Model No. NB1031-53L)
Diameter
44 mm (excluding crown and guard)
Thickness
19 mm
Lug Width
23 mm
Lug To Lug Distance
51 mm
Case
Stainless steel case
Strap
Stainless steel bracelet
Watch Crystal
Dual-coated anti-reflective sapphire crystal
Bezel
Unidirectional rotating bezel
Dial
Blue dial
Hands
Sword over-sized hands
Markers
Index markers
Style
Dive / Sports
Movement
Citizen Miyota 9012 Automatic self-winding movement
Movement Features
24 Jewels, 28,800 vibrations per hour / 8 beats per second
Accuracy
-10/+30 seconds per day
Power Reserve
42 hours
Water Resistance
300 m
Other Features
Exhibition caseback, Date display, Lume, Crown guard
Rating
(4 / 5)
Quick Summary
This is a stylish timepiece with gorgeous blue dial and applied markers. The cushion case and crown guard makes the watch looks interesting and unique, whilst also providing great wrist presence. It's also equipped with dual-coated anti-reflective sapphire crystal and an in-house Citizen 9012 automatic movement. A real trendy and unique dive watch.
Where To Buy?
Amazon (depending on season, can be bought for less than $1k. Click the link below to check its current price), MSRP is $1,195 on Citizen US website
Beautiful Blue Dial And Bezel
I'm a sucker for blue watch and this Citizen Grand Touring has a dial that I really really love. The blue dial is simply gorgeous with a slight sunburst effect, not too much as considering this is dive watch.
There's minimal signatures on the dial with only "Citizen", "Automatic" and "WR 300" (yep, the watch has a great 300 m water resistance rating) on it. Just nice and simple without any overtly complicated words on it.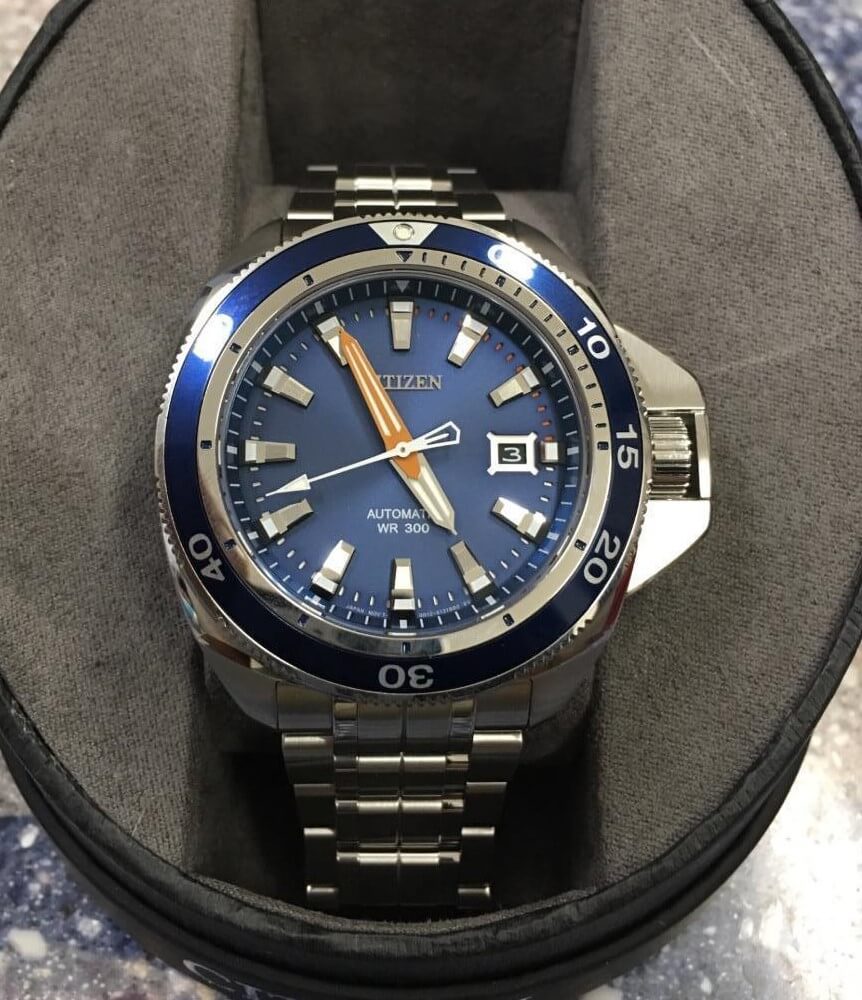 The markers are applied index markers (more on that later) while the hands are sword shaped. Both hour and minute hands are fat which make telling time is a breeze.
Truthfully, I'm not really a fan of the shape of the hands as it's a bit too bland for me. While the orange minute hand is a nice touch, the fat shape is not really inspiring.
True enough, the shape is meant to complement the markers (with its rectangular shape) but I just don't find it appealing enough..
Fortunately, they have made full use of the wide hands with the inclusion of double lume strips – which is very unique among all the watches nowadays.
Coupled with a great green lume, the "night-mode" of the Grand Touring Sport is truly something to be look forward to =)
All in all, the watch is one heck of a stylish timepiece.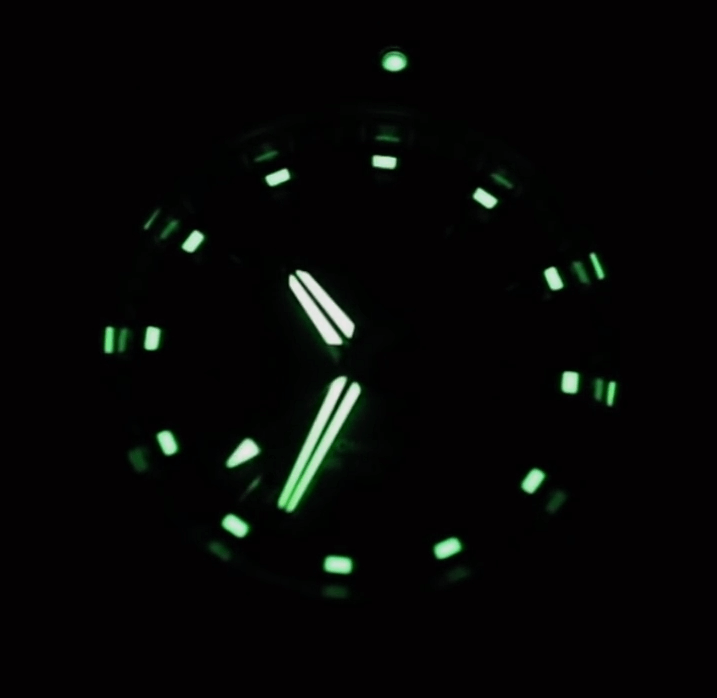 Above is how the Citizen Grand Touring Sport looks with lumes on. The double lume strips on the hands are unique and looks really good.
Applied Hour Markers Giving A 3-Dimensional Look
Another thing that impresses me with the watch is the use of applied hour markers on the dial. Applied (or raised) markers mean the markers are actually separate pieces that have been attached to the dial.
The markers protrudes through the dial and fixed in place. This gives the dial and markers two starkly different surface elevations and is clearly seen from the sides.
What's more astonishing is the lumes on the markers (two strips each) are also attached to it, giving so much dimensionality to the dial. In addition, the "Citizen" sign is also applied on it.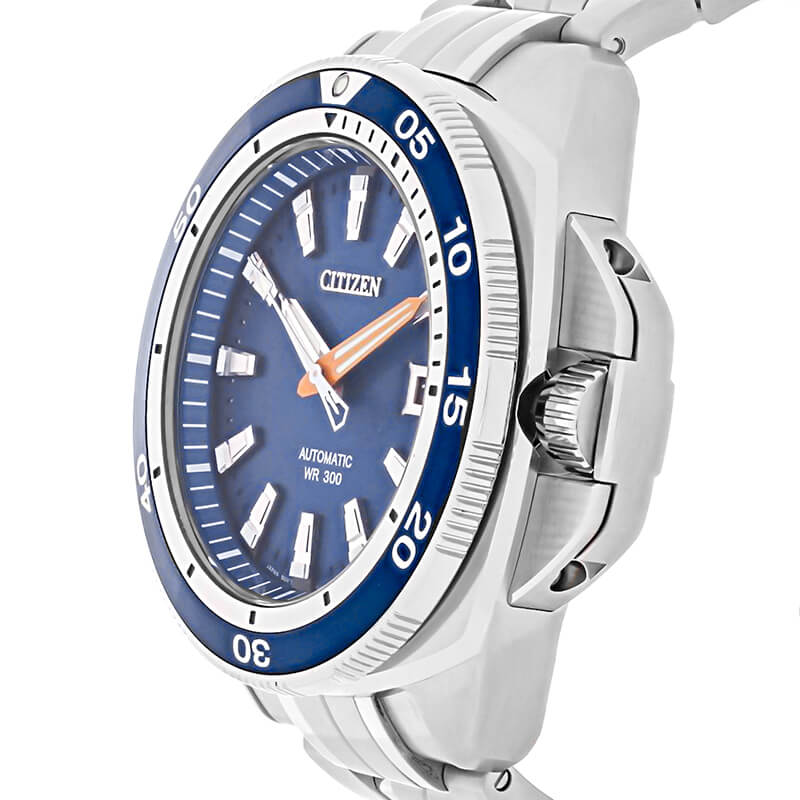 From the side, the applied marker on the Grand Touring Sport is very obvious to be seen
The applied marker technique is different than the embossed method where the markers are pressed unto the dial at the beginning of the dial making process. Both are then painted to the design afterwards.
This is different than the applied method as the markers are attached after the dial is finished. It makes sense as the watchmaker would not want to have any unpainted dial surface below the applied markers.
And to make empty spaces for the markers are just too troublesome so the easier way is to just paint it all over the dial surface.
In addition, the embossed method is the one used in many lower priced watches. So the usage of applied markers (and a great one at that) on the Grand Touring Sport is perfect with the price range that Citizen is contending in.
(For more info on applied vs. embossed method, read this great timezone.com )
Great Wrist Presence (and Manly) Due To The SS Cushion Case
One thing for sure, the Grand Touring Sport does not look and wear like other normal watch due to its unique case. It has a cushion case where the lugs are wider and not taper off abruptly like normal watches do.
Due to this, the 44 mm diameter watch looks so much bigger as it's wider. The huge crown guard also makes it looks more massive.
Looking for a watch that can give a wrist presence? This one will definitely do it. While it looks big, it can still be worn by those with medium wrist size as the lug to lug distance is about 51 mm.
The shape of the stainless steel case reminds me of Panerai Luminor with the square shaped case. Not to mention both also have big enclosed crown guards though Citizen's execution of it is different than Panerai.
On top of the watch there's a dual-coated anti-reflective sapphire crystal on it. Sapphire crystal is a must for watches in this price range. It will make sure the crystal stays pristine without any ugly scratches.
The coating on the other hand will ensure the watch is perfectly legible even with bright light shining above it.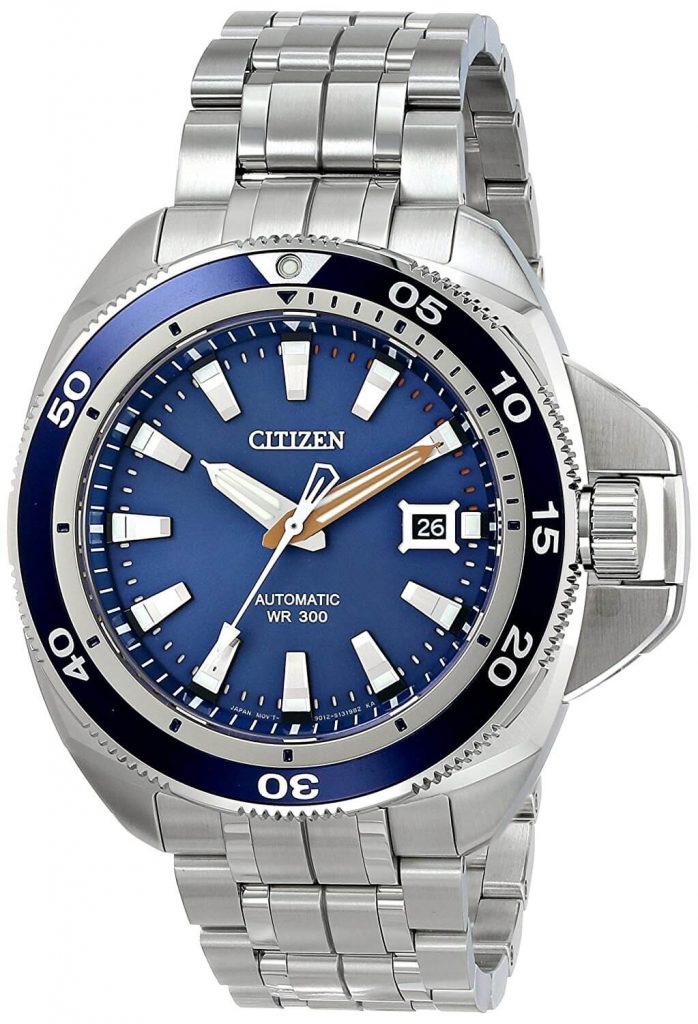 The watch comes with a well constructed stainless steel bracelet that looks very nice with the polish and brush finishes. One small flaw is the absence of double lock and diver extension on the bracelet which is sort of compulsory for any dive watch
I'd bet that Citizen had done their homework and know that most guys buying these expensive dive watches don't really bring it diving which is why they don't include the features. Plus, this makes the clasp shorter and easier to be worn.
Fully Enclosed Crown Guard – For Aesthetic Or Functional Reasons?
On the crown guard, I have to admit I'm not a fan of it, both the originial Panerai's and this Citizen's versions. I believe the guard is an aesthetic feature without any real function.
What the guard intends to do is to protect the crown from any damage and avoid accidentally pulling it out and messing with the time. Both are very important for a dive watch.
But logically, a screw down crown such as the one in this Grand Touring is not easy to pull out. In addition, many dive watches don't have a full crown guard such as this and have been working fine all along.
Which is why in my opinion, there's no reason whatsoever to have that huge crown guard in place. But I do admit the guard makes the watch look unique and stands out from the others.
What do you think about the crown guard? Do you think it serves a purpose or just being there to make it look nice (and cool) ? Let me know what you think in the comment section below.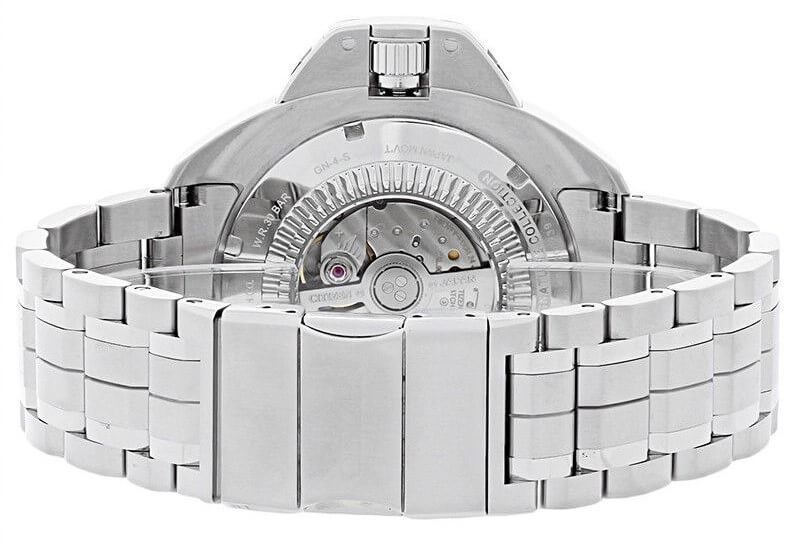 Citizen Miyota 9012 Automatic Self-Winding Movement
Powering the Grand Touring Sport is the Miyota 9012 automatic movement. As you might have known, Citizen is a brand famous for its quartz Eco-Drive watches.
But they also owns Miyota, a movement maker company which was responsible for the 9012 caliber inside this watch. The movement has self-winding feature with 24 jewels inside it.
It vibrates at 28,800 vibrations per hour or 8 beats per second. This means the sweeping action of the second hand is smooth without obvious stuttering that is prevalent with lower 6 beats per second movements in lesser priced Japanese automatics.
It has a published accuracy of -10/+30 seconds per day though the watch will easily venture into chronometer accuracy based on feedbacks from owners.
One thing that I feel Citizen and Miyota should have improve is the power reserve. At 42 hours, the power reserve is not really outstanding.
Though it still is better than the 38-40 hours in similarly priced ETA movements but the fact is its juice will runs out before the two days mark…
By the way, there is an exhibition caseback on the watch that allows for a peek on the movement. From there, we can see the decorated movement in all its glory.
Check out this video to see the watch closely
There Is Also The Grand Touring (Model No. NB0070-06E) – The Panerai Look-Alike
In addition to the blue Grand Touring Sport, Citizen also released the Grand Touring NB0070-06E, a watch that closely resembles Panerai.
While the two versions have similar internal movement and build, the dials are starkly different with the NB0070-06E having a deep black dial with explorer style hour markers.
Also, it has a leather strap versus the stainless steel bracelet and a lower 200 m water resistance rating.

Above is the Grand Touring NB0070-06E watch, the sibling to the Grand Touring Sport.
By the way, this version of Grand Touring is only similar to Panerai in terms of case shape and the big crown guard. Upon close inspection, both watches are very different with each other with the Citizen having a more rough style in terms of markers and hands design.
The crown guard mechanism is also different on the two watches. While the Panerai has the lever, the guard on this Citizen needs to be pulled manually before we can operate the crown.
=>Get The Citizen Grand Touring NB0070-06E (Panerai Style) Here
Who Is This Citizen Grand Touring Sport Watch For?
In my opinion, anyone wanting a big and manly dive or sports watch should get this. It's size and shape will make this timepiece a center of attraction.
With those blue dial and bezel, I don't think there's anyone who fails to notice this beauty. It's just too stunning and eye-catching.
Its dual-coated sapphire crystal, in-house 9012 automatic movement and a huge 300 m water resistance, this watch is not just a beauty but also equipped with the great features you'd expect for a watch at this price point.
Where Can I Buy It?
Citizen Grand Touring Sport can be had for $1,195 on stores based on its MSRP price. But I found that the watch can usually be had for lesser that amount if we're buying from online stores. At the right time, it can even be had for up to 30% discount of its MSRP!
=>Get The Citizen Grand Touring Sport From Amazon.com
Who Should Not Get It?
While the watch is a beauty, not everyone can wield it especially because of its size and weight. A 44 mm full stainless steel watch is by no means light, and the extra steel due to the cushion case and crown guard just make it heavier.
For guys with smaller wrist, having a big watch such as this might not be the best fashion decision. Not to mention the weight will just kill your wrist.
If you really want to wear it, do expect to swap the bracelet with a strap to lighten the watch. By the way the lug width of the Grand Touring Sport is a non-standard 23 mm which can be a bother to find a matching strap.
Despite its great features, the high price tag can also be a deterrent for fans. In that case, I'd suggest you to check out this list of the 10 best automatic dive watch under $500.
In addition, do check out the Seiko SKX013 – an affordable automatics (usually less than $250) with a more classic 38 mm diameter size. It's perfect for those with smaller wrists and won't break the bank too =)
Citizen Grand Touring Sport Pros and Cons
Pros:
Great wrist presence as the cushion case makes the 44 mm watch looks bigger
Gorgeous blue dial and bezel
Applied hour markers make the dial having 3 Dimensional effect
Well constructed stainless steel bracelet
Dual-coated anti-reflective sapphire crystal
In-house 9012 Cal. automatic movement
Cons:
Can be a bit too heavy due to its size especially when worn with bracelet
Final Thoughts
The Citizen Grand Touring Sport watch is truly an outstanding dive watch. While it's not exactly affordable, I find the price is substantiated with the features and craftsmanship put into it.
The design is stylish, with the cushion case that makes it look like Panerai, albeit with a twist from Citizen. The case is well constructed while its blue dial and bezel are just a pleasure to look at.
The use of scratch resistant sapphire crystal on top of it makes for a peace of mind. In addition, there's the anti-reflective coating that ensures glare to be minimized. The watch is powered by Citizen's own Miyota Cal. 9012 automatic movement.
Without a doubt, the Grand Touring Sport is perfect for those wanting an out of ordinary dive watch.
What do you think about the Grand Touring review? Let me know what your thoughts for the watch in the comment section below.
I'd love to hear what you think about it =)
Cheers!
Isaac.