Hi and welcome to my Seiko SARY055 review. This is another great value for money automatic watch by the Japanese brand.
Known as SRP527 in international market, this JDM (Japanese Domestic Market) beauty is quite a nice watch to look at.

SARY055 And SRP527 – One Watch Two Names
This watch official name is Seiko SARY055, positioned under the Presage line up (the gorgeous looking Seiko SARX015 is also under this series).
The Presage is a very weird line up as it seems to cover many mid-range watches from $200 to $2000. Internationally, the SARY055 is known as SRP527. So if you find this watch at your local Seiko store, you should be able to tell that it's the same thing.
Why is the name change and what is the difference? Frankly speaking I don't know why Seiko would do that.
Perhaps the SRP527 is made in South East Asian factories. This is only my hunch though, I've yet to see anyone confirming this.
If you know the real reason, do let me know by putting your comments down below =)

Notice the Japanese (or Kanji) language on the day window of this SARY055 and can always be swap with English. For the international version (SRP527), the day window has English and French languages instead
The only aesthetic difference between these two is at the day window whereby the JDM SARY055has dual language day (English and Japanese).
The international SRP527 version has an English + French day window. Everything else is the same between these two.
A Cheaper SARB035?
When I first laid my eyes on the Seiko SARY055, I thought it had the wrong name as the watch really looks like the Seiko SARB035, another great Seiko dress watch with white creamy dial.
But looking in detail, it's apparent that this SARY055 is a different watch, though very similar in style to the SARB035.
It's same with the use of white creamy dial, but the most telling difference is the blue hands and day date window on the SARY055.
The SARB035 on the other hand has big dauphine hands (with a lil bit of lume applied on the center) and only date window.

Seiko SARB035 – The watch that looks very much like the SARY055
The next big difference would be the use of 4R36 movement in this SARY055 as compared to the higher grade movement 6R15 in the SARB035.
I strongly think this difference in movement is the reason why the SARB035 has a higher price tag (at $350) compared to the cheaper SARY055 (at $280).
So for those that love the look of the white dress watch of SARB035 but don't want to fork out $350 on it, the SARY055 is a pretty good alternative if you are okay with the lower specification movement.
Anyway, we will get back on the detail comparison between these two gorgeous dress watches (skip down to the lower half of this review for that).
Before that, let's have a look at Seiko SARY055 review shall we.
Seiko SARY055 Watch Specification
Diameter: 41 mm
Thickness: 12 mm
Lug Width: 22 mm
Lug To Lug Distance: 49 mm
Case: Stainless steel with exhibition caseback
Strap: Stainless steel bracelet
Dial: White sunburst dial
Watch Crystal: Sapphire crystal
Hands: Dauphine blue hands
Markers: Index markers
Movement: Seiko Caliber 4R36 Automatic Self-Wind movement
Movement Features: Japanese made in-house movement, 24 Jewels, 21600 vibrations per hour or 6 beats per second, Hacking, Manual winding
Power Reserve: 41 hours
Water Resistance: 100 m
Other Features: Magnetic resistance, day and date window, exhibition caseback
Best Place To Buy: Amazon
White Sunburst Dial
The dial of Seiko SARY055 is a white creamy dial with metallic sunburst effect on it. It's very clean, very "angelic" looking dial.
It's just soo good to look at! Not to mention the silver index markers just sort of blend in with the white dial.
The combination of the sunburst dial with the polished case gives a great reflection as the watch catches lights in a beautiful way. It's truly a good looking dress watch.

The hands are dark blue in color. They are reflecting lights, in which most of the time they will appear to be blacks (as in most of the photos here) but at some lighting angles, you can see that they are actually dark blue.
By using a dark blue hands, there is no question at all about the visibility of this watch. It's totally legible as the dark hands greatly contrasts with the white dial.
No Lume On The Dial – A True Dress Watch
On thing that might have different reactions from Seiko fans is there is no lume on this watch. Seiko definitely wants to keep the SARY055 as a true dress watch without any lume on it.
For a start, it definitely give the watch a cleaner and elegant look. The hands are full with the dark blue colors without any white lume on it.
The markers are also free of lume which gives a better aesthetic to the watch in my opinion.

But without lume, the watch is hardly any use even at minor low light condition such as any electrical trip at your office, watching movies at cinema etc.
This reduces the watch functionality to some degree, though if you always carry a smartphone with your body at all times (which I'm sure you are.. who doesn't??) it's not a big deal at all.
Still, some people loves their lumes (including me). Lumes are great, but not strictly necessary for a dress watch like this SARY055.
But if anyone is thinking to have a piece of that brilliant Seiko's LumiBrite, you might want to look elsewhere (I'd suggest start by some diver's watches such as the SRP777 Turtle or the Seiko Monster).
Day Date Window And High Degree Of Details
Another aspect of the Seiko SARY055 that I like is the presence of day date window at the right hand side of the watch. I can't say how much functional a watch with day date windows is.
It's truly make the watch more useful than just telling time, especially to someone with a normal 8-5 jobs like me.
Having a watch with this function reduces my need to have to look at my smartphone just to know what day or date today is.
Not sure about you guys, but I think my ability to remember a date is very poor as I grow up lol! Some study shows that our brain is constantly degrading the moment we hit puberty – so that might be the case here =p

The amount of detail put on the dial is typical of Seikos at this price point. In addition to the raised index markers, the Seiko sign at the center is also raised and not just painted on top of the dial.
Same case with the day date window. The minute markings at the outer edge of the dial are meticulously put and look very beautiful.


Average Size Watch With 41 mm Diameter
The Seiko SARY055 has a diameter of 41 mm, kinda the sweet spot between the bigger 44-45 mm and small 37-38 mm. Due to this, it appeals to lots of people since most wrists can fit comfortable with it.
With the bigger 44-45 mm diameter watches, you will need at least a 5 inch wrist to pull it off. On the other hand, I think a smaller wrist would do just fine with the SARY055.
It also has a 12 mm thickness and 49 mm lug to lug width. The case is finished with a combination of brushed and polished.
Looking in detail on it, the case design is reminiscence of Seiko's signature case design with edges and curves around the sides and lugs.
The combo of brushed and polished is well executed in between the surfaces. The Japanese brand really have a knack for case construction.
The case is also anti-magnetic, a very useful thing to have. Magnetization of automatic watch is a very common problem and you might not even realize it until the watch starts to run very slow or fast, way outside its usual accuracy range.
Thus, to have this feature is a very good thing. Even though the watch has anti-magnetic protection, we still have to be careful to make sure it's not accidentally magnetized by a very strong magnet.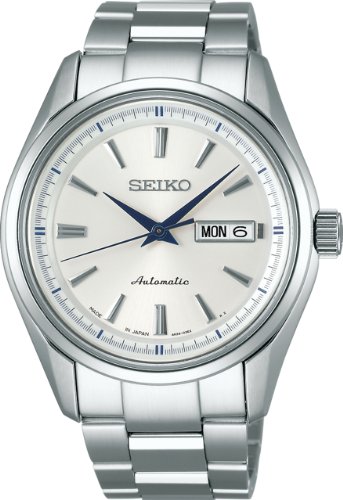 Sapphire Crystal For Scratch Free Glass
As an added bonus, Seiko put a sapphire crystal on top of the SARY055, something that has just increased the value for money of this $280 watch. Sapphire in my opinion is the best material for watch crystals (or the glass on top of it).
It is scratch resistant to most material on earth, and will stay pristine for years to come. It's not uncommon for a watch with sapphire crystal to look brand new even after more than 10 years of use.
(You guys can read my article on types of watch crystals (click HERE) for more information about the watch crystals)
Truthfully, I was very shocked to know that this watch has sapphire crystal on it. Seiko has always been stingy on this sort of things and only put sapphire on their more expensive watches.
Cheaper watches will get their Hardlex crystal, which is basically a toughened mineral crystal. It's great for impact resistance but not so good in scratch resistance.
At this price, I think this might be the cheapest Seiko automatic watch with sapphire cyrstal that I've known.
(Though I can be wrong, as I've been in so many occasions. Do let me know if you find a cheaper Seiko with sapphire crystal on it!)
Curved Lugs For Perfect Fit
Another thing that might have been borrowed from the SARB035 is the curved lugs on this SARY055.
I've written about how Seiko loves to make curved lugs on their watches before, and am pleased to see this watch also got it.
As you can notice, the lugs of the SARY055 is extending downwards from the body profoundly. The result is a good hug on the wrist.
This reduces any gaps between the lug and the wrist, giving a better fit to the wearer. It's definitely something that is very comfortable to be worn!

You can see for yourselves how the lugs of the SARY055 curved down beautifully from its case
The watch also has a 100 m water resistance for some peace of mind. There is no screw down crown though, so I will be wary to get this watch close to water.
But then, who would swim or dive with a dress watch? In this regard, the decision to not have a screw down crown is spot on.
22 mm Lug Width
One weird thing that I found the Seiko SARY055 has is the 22 mm lug width. With a small 41 mm diameter, to have a 22 mm lug width is very unusual.
The bracelet will look bigger than the watch as a result of this, and break the proportion that it has.

It looks a bit weird to use a 22 mm bracelet on a 41 mm diameter watch. I honestly think the major flaw with the gorgeous SARY055
Honestly, I believe Seiko can do a better job in this aspect. The 22 mm bracelet just looks much bigger overbearing the watch, and it's not a pleasing sight at all.
Again, I might be wrong, but I feel that a 20 mm lug width will look so much better on the watch. Let me know if you guys think otherwise on this =)
On the back of the watch is an exhibition caseback to show the 4R36 automatic self winding movement (more information on the movement at the next section).
Considering the SARY055 cheap price (for $280, it's still can be considered "cheap" among automatic watches out there), there is not much to expect.

The caseback of the Seiko SARY055 is not decorated, save for a gold plated rotor
So, don't expect any pretty flashy jewels on the exhibition caseback lol. But Seiko did put a gold plated rotor just to liven things up.
Nothing fancy of course (typical of Seiko). Just some signatures on it here and there but this effort is definitely something good and managed to make upgrade the typical dull silvery movement into something bearable.


Seiko's 4R36 Automatic Movement
Running the watch inside the Seiko SARY055 is the 4R36 automatic self winding movement. As some of you might aware, this is the exact movement found in many Seiko watches at this price range.
Two examples of such watches are the Seiko SRP777 "Turtle" and Seiko Monster, both are diver's watch.
What does this means? It basically means for the sake of simplicity, Seiko designed and produced a typical movement (this 4R36) to be used for all of its watches in the $200-$300 range.
They have to design it so that it can even be used for their diver's watches, watches with the most extreme use. And that is the movement found in this SARY055.
What better assurance than to know the movement in your dress watch is the exact same as inside those diver's watches?
The 4R36 is a 24 jewels movement and beats at 6 times per second. It's also hacking and can be manual wind, the basic features in today's automatic watches.
Seiko SARY055 Vs SARB035
Now, let's breakdown in detail the comparison between these two very similar watches: SARY055 vs SARB035.
On the left is the Seiko SARB035 side by side with the SARY055 on the right
1 – Dial Design:
Both watches have the same white creamy dial color. The index markers are a bit different with SARB035 has a more rectangle index markers.
It also has lumes on it (on the hands and tip of the index markers). Its hands also is bezeled, creating a very nice 3-D effect look.
There is also no gap between the index markers and outer minute markings on the SARB035. The gap is prominent on the SARY055 and frankly speaking, it makes the watch looks a bit odd with those gaps.
Another big difference is the day date window on SARY055 compared to the date window on the SARB035.
Both have similar dial design but SARY055 has day date window which is very functional. On the other hand, SARB035 has lumes on it, which also makes it functional.
2 – Case:
SARY055 has a bigger case (41 mm diameter and 49 mm lug to lug distance) as compared to the SARB035 (with 38 mm diameter and 45 mm lug to lug distance).
In my opinion, this is the deciding factor between these two watches.
While the SARB035 is more elegant and refined with its smaller case (and smaller 20 mm lug width),
The SARY055 is bigger and definitely has more sporty/casual look to it. It's still an elegant piece, but it's less dressy if we are comparing these two watches.
And not to mention the SARB035 might look weird on big wrists. This is something that you guys need to consider too.
As much as it's not very pleasing to look an over-sized watch on small scrawny wrist, it's also not great to wear a watch that's too small for your big manly wrist.
Just like a suit, perfect fit is a must and that is the key to great style.
3 – Movement:
Last but not least, let's compare the movements inside these two watches. The SARY055 has 4R36 movement while the SARB035 has the 6R15, which is the better movement of the two.
The 4R36 is actually derived from the 6R15. While the latter has SPRON510 mainspring that gives a good 50 hours power reserve, Seiko uses a normal mainspring in the 4R36 (presumably to cut costs). But it still managed some 41 hours.
Not to mention 6R15 is by far the most accurate of the two. Most owners will report its accuracy to be within +-5 seconds which is very good.
The 4R36 is a bit of hit and miss though. Some people get a great accuracy but some (including me) managed a much less desired accuracy at more than 20 seconds per day.
Verdict:
The SARY055 and SARB035 are both similarly styled watches but the smaller size of SARB035 makes it more elegant and dressier as compared to the SARY055 which is more casual looking.
On the other hand, due to this the SARY055 is more versatile and can fit with most sizes of wrists.
Functionality wise, the SARB035 has lumes on it (good for sudden electricity breakdown) while the day date window on SARY055 is very useful to be used to work.
Most of the cost difference between the two watches (SARB035 is about ~$70+ or so more expensive) comes from the better 6R15 movement inside the SARB. It has 50 hours power reserve and much better accuracy.
If you guys want a great automatic movement, get the SARB. But if you are okay with only 41 hours power reserve and lesser accuracy, then this SARY055 is it.
Who Is This Watch For?
The Seiko SARY055 is definitely for those that want a good dress watch for everyday use. It's very handsome with sunburst dial and very functional with the day date window. With an affordable price, it's a good value for money too.
Who Should Not Get It?
Somebody that is looking for a more casual and sporty timepiece should definitely look elsewhere as this is not the watch for that. While the 4R36 is a robust movement, it's not well known for its accuracy.
Thus if you want the best accuracy in your automatic watches, I'd suggest to check out the SARB035 or other Seikos with 6R15 movement.
Watch the video above for a closer look at the Seiko SARY055
Pros and Cons
Let's see what are the pros and cons of the SARY055. A bit disclaimer here: these pros and cons are my own personal view of the watch.
If you guys disagree with some of it, leave a comment down below so that we can discuss it further =)
Pros:
Beautiful dress watch design with white sunburst dial
Good average size of 41 mm diameter watch fit for all wrist sizes
Curved lug design to hug the wrist for comfortable usage
Day date window is very useful especially for normal office workers
Use of sapphire crystal that is highly scratch resistant
Cons:
22 mm lug width is too big and not proportionate to the 41 mm diameter case

Like The Seiko SARY055? Buy It Cheapest On Amazon!
Love the dressy look of this Seiko SARY055 and want it for yourselves or as a present to someone? You can always try your local Seiko dealers but make sure to ask for SRP527 instead for around $350.
They are both the same watch but the SARY055 is for JDM only. Alternatively, you can also get it cheapest on Amazon at lesser than the MSRP price! Click the link below to check out Seiko SARY055 on Amazon!
->Click Here To View Seiko SARY055 On Amazon<-
Final Thoughts
Seiko SARY055 is without a doubt a great looking watch. It's white sunburst dial is mesmerizing, so as its dark blue hands.
Not only that, it also has sapphire crystal making it a great value for money. With its day date window, this is a perfect watch for daily wear.
*************
I hope you guys like this Seiko SARY055 review. Share this article if you love it. If you got any questions, feel free to ask me.
Leave your comments down below and don't forget to subscribe =)
Cheers!
Isaac