A watch bezel is an important element for a watch. It can add more functionality to a normal watch, while those without any bezel will look cleaner and dressier.
But first, what is a watch bezel?
Watch bezel is the part of the watch between the crystal and the case. Traditionally, this area is empty without anything on it.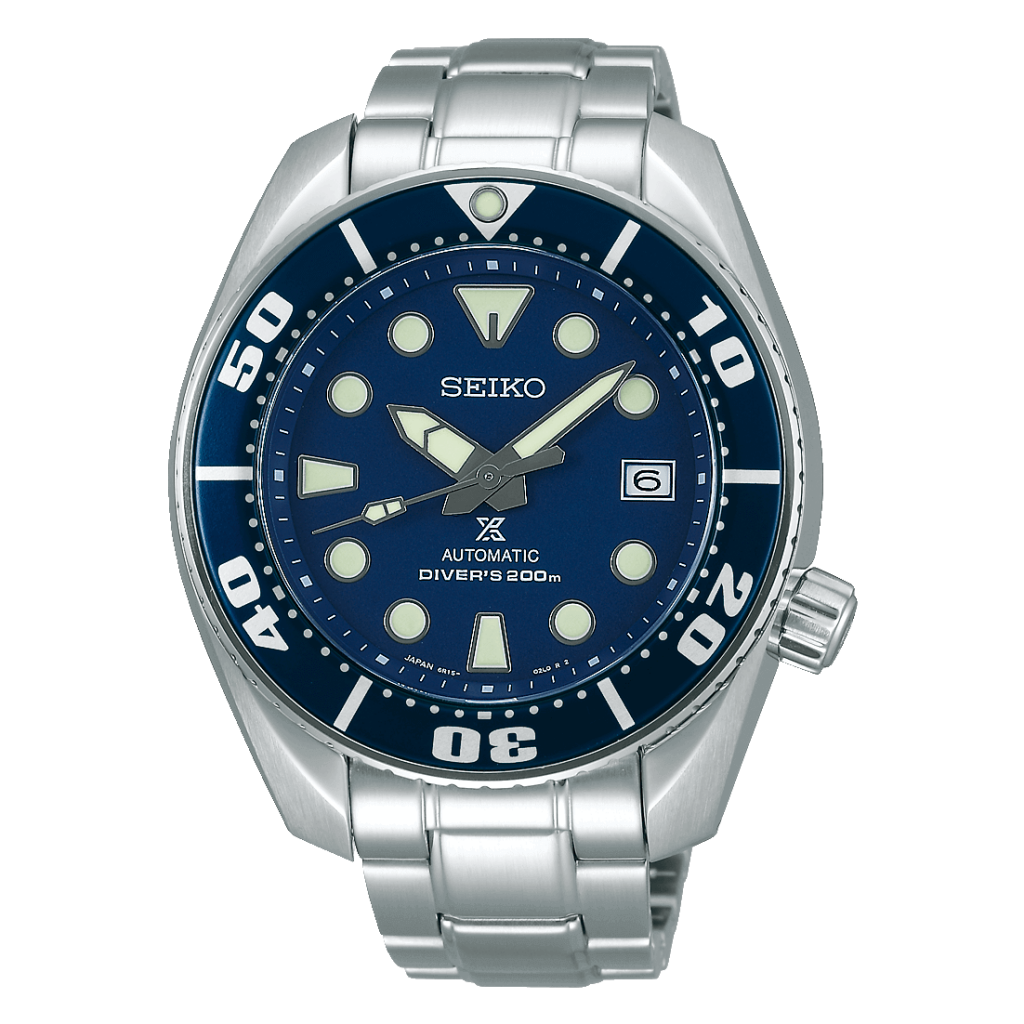 A normal diver's watch with rotating bezel (the circular strip around the watch's face). Shown above is the Seiko SBDC033 Sumo diver's watch
But as innovation of watches took off, watchmakers begin to utilize this area to show some information, leading to the invention of a rotating bezel i.e the bezel that can be rotated by the user for an extra information or function.
A few popular types of bezels are GMT, world time, slide rule (read my previous post on slide rule bezel and how to use them HERE) and last but not least, the diver's watch bezel.
All of them achieves different things but the are used by the same way, that is rotating the bezel.
Diver's Watch Bezel Anatomy
The anatomy of a diver's watch bezel is very simple. Basically, there are 3 main components which are basic to all the bezels:
1- A bezel that can only be rotated anti-clockwise
2- Markings on the bezel in 10 minutes increments to make it look simple and not complicated
3- A marker at 12 o'clock that has a lume pip (for low light visibility)

The small lume dot/pip at the top of this Seiko SKX173 is important so that diver's can still use the bezel in low light condition
So How To Use The Rotating Bezel?
In my opinion, there are 2 main ways to use this rotating bezel on a watch which are:
A) To Track Elapsed Dive Time
In order to track how long the dive has been, we can use the rotating bezel for this purpose by moving 12 o'clock bezel marker to the minute hand position.
As time goes on, we can easily track the elapsed time by reading the minute markings on the bezel. This is a great way to keep track of time underwater.
In my opinion, this has the advantage of chronograph but without the more expensive movement and the fact that we can still tell the current time.
B) To Set Target Time To Finish Dive
Another way to use the rotating bezel is to set target time to finish the dive. Simply move the rotating bezel so that the 12 o'clock marker coincides with the target finish time.
For example, the current time is 3:20, and you want to dive for only 20 minutes.
Move the bezel 12 o'clock marker to the 40 minutes mark. When the dive reaches 20 minutes, the minute hand will be coinciding with the bezel for you to know that 20 minutes has elapsed.

Rotating bezel comes in many colors and styles. Above is the Seiko SKX009 with the blue and red pepsi bezel
Notice that for both usage, the unidirectional or only anti-clockwise rotating mechanism of the bezel is used to make sure that the dive does not go more than it's planned.
It's possible that when diving, the bezel is moved from the pre-set position. By using an unidirectional mechanism, the bezel will only move anti-clockwise, so that any accidental movement will only reduce the elapsed/target time.
This is one of the important features of diver's watch bezel to protect divers against accidentally lengthening his/her dive.
Can It Be Used For Other Usages Than Diving?
Of course it can! Besides diving, the rotating bezel can also be used for other usages to track time of:
Baking
Cooking
Gym session
Shower
Swimming
Work
Studying time
Playing games
etc. etc. etc.

The diver's watch bezel can be used to time just about anything. Start using them now in your daily life =) – Shown above is the Orient Ray II
Those are just some of the things I've personally time using rotating bezel and as you can see, the usage is practically limitless!
The bezel can be used to measure any activities as long as it's not more than one hour (you might want to check out a chronograph watch if it's more than one hour).
Conclusion
The rotating bezel on a diver's watch is an useful tool to keep time for any kind of activities, not just for diving. Using it is very simple and can turn our watches into a mini chronograph.
And not just that, the bezel can also be a good way to pass time – I've been found to needlessly rotate by bezel just to hear it clicks lol!
I'm not saying you guys should follow my lead but when you are in a possession of a good diver's watch with a good 120-clicks bezel, you'll surely get hooked to do that too =)
I hope you guys learnt a lot from this article on how to use rotating bezel on a watch. Let me know the other ways you use your watch in the comments section below.
I'll be very happy to hear your opinion =)
Cheers!
Isaac