Good Value For Money Watch – A Citizen Promaster Diver Review (BN0151-09L)
Looking for a good value for money diver's watch? Then this Citizen Promaster Diver (model no. BN0151-09L) might just be the one for you.
A full fledged analog diver's watch with ISO 6425 standard compliance, real good looking blue dial, solidly built casse – all for less than $250!
With this watch (and the Ecozilla for some extent), Citizen seems to be challenging Seiko and Orient on the affordable diver's watch segment.
(Read my list of the 10 best automatic diver's watches under $500 and you guys will see what I mean)
Let's go to the Citizen Promaster Diver review and find out what makes this watch a great watch for your next diving trip.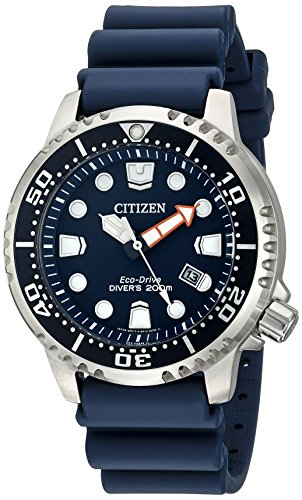 Citizen Promaster Diver Specification (BN0151-09L)
Diameter: 44 mm
Thickness: 12 mm
Lug Width: 20 mm
Lug To Lug Distance: 49 mm
Case: Stainless steel case
Strap: Dark blue polyurethane strap with No-Decompression table
Watch Crystal: Mineral crystal
Dial: Dark blue dial (with solar panel underneath it)
Hands: Oversized arrow shaped hands with lume
Markers: Index markers with lume
Movement: Eco-Drive E168
Movement Features: Citizen's Eco-Drive quartz movement with Solar/light powered
Power Reserve: 180 days
Water Resistance: 200 m
Other Features: Date display, Unidirectional rotating bezel, Screw down crown, ISO 6425 diver's watch standard compliant, Signed crown
Best Place To Buy: Amazon (click below to see the cheapest price), MSRP is $295
Sublime And Handsome Dark Blue Dial
The first thing to notice on the Citizen Promaster Diver is the dark blue theme which is on top of the dial, bezel and the strap. It reminds me of my Seiko Sumo which also has the same dark blue matte dial.
And I can say they both look extraordinarily handsome! This type of matte dial is the best when it comes to diver's watches as it's not very showy such as the sunburst dials.
The dark matte dial gives the vibe of strictly business and that's what the Promaster Diver is – a real diver's watch.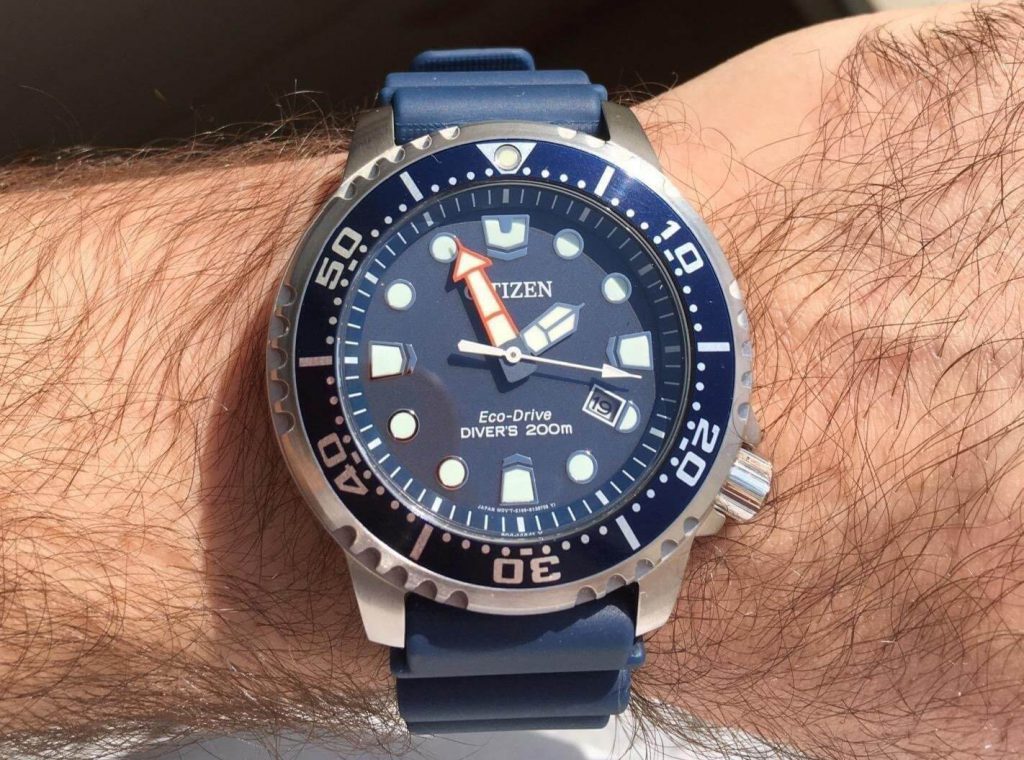 At the 4 o'clock, a date display is located which adds to the functionality of the watch. This placement seems to coincide with the crown which is also located at the 4 o'clock. Nice touch there Citizen!
The hands and markers are oversized, true to diver's watch fashion. The markers are index markers with stainless steel linings around them.
The top 12 o'clock marker has a different shape so that it will be very visible in dark when the lume is glowing.
It's hands are arrow shaped hands with different design and colors. The hour hand has a silver lining while the minute hand has an orange outline. This makes the minute hand pop out to be very visible.
Well, Citizen has been known to play with colors on their watch dials (such as their Altichron watch) so this is not so weird for me.
For a watch that looks perfect for casual and sports use, this Promaster Diver is the one watch to get.
Great Diver's Watch Lume
One of the things that a diver's watch need to has is great lume. Lume is the unique point about diver's watches that no other watches has. Besides, a brightly glowing watch lume looks super cool =)
On this BN0151-09L is has just that – a super cool lume thanks to the oversized hands and markers. The luxuriously applied lume paint make for a very glowing watch in the dark.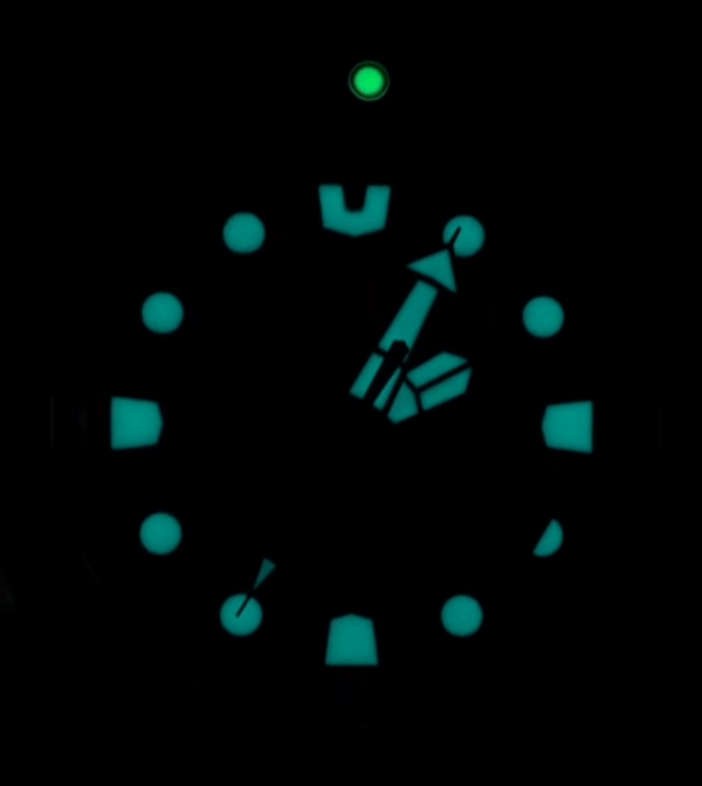 Citizen opted to use a blue colored lume for the hands and markers which is a nice complement to the blue dial. At the top of the rotating bezel is a lume pip with green colored lume so that divers can still use the bezel in the dark.
Solidly Built Stainless Steel Case
This watch also has a solid stainless steel case, befitting of its 200 m water resistance rating. The watch is 44 mm in diameter with 12 mm thickness which is quite an average size nowadays.
The lug to lug distance is 49 mm and I'm quite sure most guys can pull this off (unless you have a very small wrist). It's nice and sturdily built, something that you will be confident to bring underwater.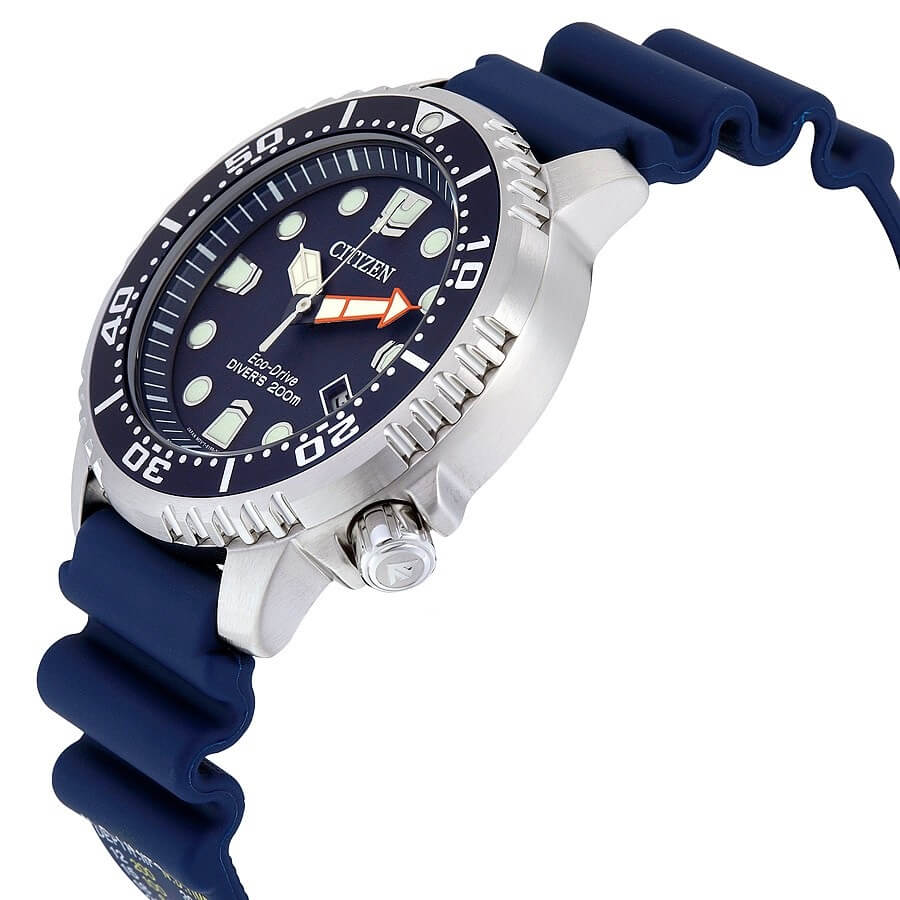 On top of the dial is a unidirectional rotating bezel that is used to time dives. It has a minute markings at every minute which make the bezel a bit busy. At the sides of the bezel are threads to help users grip the bezel when using it.
(Read my article on how to use rotating bezel for more info)
The bezel is connected to the mineral crystal at the top which protects the watch from impact and water ingress. The usage of mineral crystal is not something that I like since it scratches easily. I prefer sapphire since that thing will be kept pristine for years to come.
But then we need to remember that this is a watch that's prices below $250. So it's quite understandable that Citizen can't afford to spend the top dollars on the watch specification.
(For info on watch crystal types, read it more in my article HERE)
The 20 mm lug width of the watch comes with a blue polyurethane strap that seems to match the dark blue dial. On the is a No Decompression (or N.D) table that basically shows how long a human diver can stop at any given depth without having to make decompression stops when ascending.

It's quite a long subject to go into so for those that is interested in it, I'd suggest to read this Wikipedia page on the matter for more info.
ISO 6425 Diver's Watch Compliant
One of the great features of this watch is the compliance to ISO 6425 diver's watch standard. As I've written in my past article HERE, this ISO standard is used to make sure diver's watches are fully competent to be used underwater.
The Citizen Promaster Diver complied with this standard which means it's a great choice for real divers to use. For non-divers or the so-called desk divers, the ISO compliance means this is a tough watch that can withstand any kind of activities you throw at it.
If it is good enough to be used underwater, it's surely sufficient to be used for that gym/ jogging/ hiking/ camping activities.
Eco-Drive E168 Movement
At the heart of this watch is the Eco-Drive E168 movement, Citizen's own in-house solar powered watch. Well, solar powered is not quite right since the watch can also be recharged by any kind of light.
Underneath the dial is a solar panel that will absorb any light and turn it into electrical charge to be stored in its battery. But of course not all light is the same.
Sunlight has highest intensity (illuminence, as measured by the Lux unit) at 100,000 lux and the watch needs to be exposed to this for only 3 minutes for it to function normally one day. 35 hours of exposure is needed for full charge of 180 days.

On the other hand, normal fluorescent light bulb or lighting in the office/home has only 500 lux and will require up to 4 hours to charge the watch just for one day of use.
As you can see, solar powered watches are quite hard to be charged to full unlike automatic watches that only need a few round of manual winding.
But as long as we are exposing the watch to lights long enough, I don't think there is any issue in this. I'd think only those that work night shifts will be affected as they won't get as much night time as other people.
Accuracy wise, the Eco-Drive movement uses quartz as its time keeping mechanism. Being a quartz watch, it's accuracy is among the best at only +-10 seconds per month. That's much better than the usual +-15 seconds per day of automatic watches at this price range.
Watch the above video to see the Citizen Promaster Diver closely
Who Is This Watch For?
I'm sure that professional divers will take a liking to this handsome diver's watch. The Citizen Promaster Diver is truly befitting its name. The ISO 6425 compliance with solidly built case makes it a good watch for diving.
Not to mention its more affordable price compared to other diver's watches. I don't think those that have Rolex Submariner will use their watches for diving and will use a cheaper watch (like this Promaster Diver!) instead lol!

And with a handsome design, it's also something that non-divers could wear casually and for any sports/outdoor activities. Being a diver's watch, it's versatility is its strong point and will look good in almost all settings.
Having an Eco-Drive solar powered movement makes it easy to use without having to change any batter every few years.
For a watch that's look great, with good specification and easy to use, the Citizen Promaster Diver is the one to get.
If you like the watch, get it cheapest from Amazon (click the link below). The watch MSRP is $295 but usually it can be had for less than $250 on Amazon which is a really good deal to me =)
=>Get The Citizen Promaster Diver Here
Who Should Not Get It?
Those wanting a more refined and dressy look might not want to get this watch. It's dial is very simple and sporty with the oversized hands and markers. I'd limit this watch to casual and sports, with occasional office use with the right strap such as leather or bracelet.
For black tie events, it's better to go with a more simple and elegant watch such as the Seiko SARB033 or Citizen's Eco-Drive Titanium.
Citizen Promaster Diver Pros and Cons
Pros:
Beautiful dark blue dial
Solar/light powered with Eco-Drive technology – no need for battery change for a long time
Very long power reserve up to 6 months
Solidly built case
Great lume effect
High visibility due to the oversized hands and markers
ISO 6425 diver's watch compliance
Date display is a plus for funtionality
Cons:
Mineral crystal is not scratch resistant, but understandable at this price range
Final Thoughts
The Citizen Promaster Diver is a good looking watch with its brilliant dark matte blue dial and overall solid craftsmanship. Not just a handsome toy, it's also a full fledged diver's watch with an ISO 6425 diver's watch compliance.
The Eco-Drive movement ensures that the watch is fully charged using solar/light and has a great 6 months power reserve.
And all of that in a watch that costs less than $250. Now that's what a good value for money is. If you guys are looking for a watch that looks good, has high specification and affordable, this is the watch to get.
I hope you guys love this Citizen Promaster Diver review. Let me know if you have any comments or questions on the watch.
I'd love to hear from you guys =)
Till next time.
Cheers!