Although automatic watch is well-known to be expensive, you don't really have to spend a fortune to own one. As a fan with normal income level, affordable automatic watches are something that I'm very interested in, especially below that magical USD $200 mark.
After some survey, I managed to gather a list that I think would be helpful to guys with a tight budget.
If you're looking to get an affordable automatic watch for under $200 in 2020, then you should definitely check out these 15 watches here:
Watch Model
Key Features
Price Range

1- Invicta 8926



40 mm diameter stainless steel case
Mineral crystal
Seiko NH35A automatic movement
Unidirectional rotating bezel
200 m water resistance
Transparent caseback
Lume on markers and hands
$70-$90
Read Review >>
2-

Invicta Specialty 23533

42 mm diameter stainless steel case
Open dial design
Mineral crystal
China-made mechanical movement
30 m water resistance
Transparent caseback
$60-$90
Read Review >>

3- Seiko SNK809



37 mm diameter stainless steel case
Hardlex mineral crystal
Seiko 7S26 automatic movement
30 m water resistance
Lume on markers and hands
Transparent caseback
Aviation style
$80-$100


Read Review >>

4- Invicta Vintage 22569



45 mm diameter stainless steel gold-plated case
Open dial design
Mineral crystal
China-made automatic movement
50 m water resistance
Transparent caseback
$80-$100


Read Review >>

5-

Citizen NH8354-58A



40 mm diameter stainless steel case (two-tone silver/gold)
Mineral crystal
Citizen 8200 automatic movement
50 m water resistance
$120-$150
Read Review >>
6-

Seiko SNKL23



38 mm diameter stainless steel case
Hardlex crystal
Seiko 7S26 automatic movement
30 m water resistance
Recessed crown
Transparent caseback
$130-$160
Read Review >>

7- Orient Bambino



40 mm diameter stainless steel case
Domed mineral crystal
Orient F6722 automatic movement
30 m water resistance
Transparent caseback
$150-$200
Read Review >>

8- Seiko SNZF17 (Sea Urchin)



41 mm diameter stainless steel case
Hardlex crystal
Seiko 7S36 automatic movement
100 m water resistance
Lume on markers and hands
Transparent caseback
Unidirectional rotating bezel
$150-$200
Read Review >>

9- Fossil Townsman ME3167



44 mm diameter stainless steel case
Mineral crystal
Japanese automatic movement
50 m water resistance
24-hour time display
Transparent caseback
$150-180
Read Review >>

10- Seiko SNZG15



42 mm diameter stainless steel case
Hardlex crystal
Seiko 7S36 automatic movement
100 m water resistance
Lume on markers and hands
Transparent caseback
$150-$200
Read Review >>

11- Bulova Classic 96C130



42 mm diameter stainless steel case
Mineral crystal
Japanese automatic movement
30 m water resistance
Transparent caseback
$150-$200
Read Review >>

12- Seiko SRPC63



45 mm diameter stainless steel case
Hardlex crystal
Seiko 4R36A automatic movement
100 m water resistance
Lume on markers and hands
Transparent caseback
Unidirectional rotating bezel
$160-$200
Read Review >>

13- Orient Kamasu



42 mm diameter stainless steel case
Sapphire crystal
Orient F6922 automatic movement
200 m water resistance
Lume on markers and hands
Unidirectional rotating bezel
$170-$250
Read Review >>

14- Orient Kanno



44 mm diameter stainless steel case
Mineral crystal
Orient F6922 automatic movement
200 m water resistance
Lume on markers and hands
Unidirectional rotating bezel
$170-$250
Read Review >>

15- Bulova Classic 97A136



41 mm diameter stainless steel case
Boxy mineral crystal
Automatic movement
30 m water resistance
Transparent caseback
Open aperture on dial
$170-$200
Read Review >>
Summary of the Best Automatic Watches Under $200 in 2020
Note: All price ranges are based on online retailers
Without a doubt, this list is by no means the only automatic watches below $200 that you could buy (for example, there's lots of very cheap China-made automatic watches out there). 
But then, giving out the cheapest automatic watches list is not helpful to you guys and definitely not much fun as the list will be filled with Invictas and Seiko 5s! In this list, I tried to list out some of the most pleasing watches from various brands with the best value to money proposition. 
I've also tried to make the list encompass all the watch types (the 3 main types of dress, sports, dive watch) that anyone would be interested in.
Sure enough, there are lots of cheaper watches (Invictas, Seiko 5s & China-made models) that are very affordable that didn't make the cut here. That's intentional as I don't want to make the list too repetitive with the same brands and same style of watches.
However, as you might have seen, there isn't much variety when it comes to the brands. Not all brands can compete at lower price points hence you'll only going to see that some brands have multiple watches in this list.
Where Can You Buy These Watches?
I need to highlight again that the price range that I've included in the table above is based on online prices from third-party resellers or from the so-called gray market.
Due to their price structure, it's highly unlikely that you can get those prices if you buy from the authorized dealers (AD) of the brands, either at their brick-and-mortar store or even from their official website, which have the exact same manufacturer price (MSRP) with the shops lol!.
Thus, watches sold by third-party resellers are usually much cheaper as you'll skip the obscene profit margin built-in in the MSRP prices set by the watch brands.
However, buying the watches from these sellers on the internet is called buying gray market as the watch will not have the warranty from the brand.
The watches are 100% real (though there are some fakes out there that you should watch out) but since it's not being sold through the authorized channel, the watches won't have warranty from the brand.
But the thing is, warranty is not really a concern if you're buying from a reputable online store as usually they will provide their own money-back guarantee or something like that.
Thus, buying a gray market watch is a really cost effective way to buy the watches that you love. Just be sure not to buy more expensive watches (my personal threshold is $1000) from gray market as the risk is higher.
There are many websites selling watches but here are some of the popular ones that I've personally used in the past:
Do note that Amazon and Ebay also sells second hand watches (they are a seller's markerplace after all) so there's a potential that you can even get the watch cheaper.
1. Invicta 8926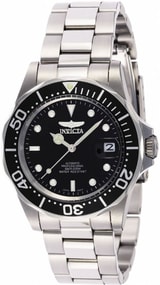 The Invicta 8926 is a famous watch due to its handsome looks (you can say that it looks quite a bit like the Rolex Submariner…) and its very affordable price, around $70 to $90 apiece.
(I've even written a full review of this watch that you can read here)
Just looking at that price, it's one of the best automatic watches that you can get if you're tight on budget. You're getting everything an automatic watch has to offer – plus the famous diver watch style.
If you're enamored with the rugged Rolex Submariner but can't cough up $6,000 for a watch, then the Invicta 1826 is a much affordable alternative.
It's definitely a good first watch for those just wanting to test the waters (so to speak) with automatic watches.
It's housed in a 40 mm diameter stainless steel case which is, to me, a sweet spot for men's watches now. It's not too small (< 37 mm) nor too big (>43 mm) which means it will sit well on most wrists.
In addition, the moderate size means its weight is not too heavy as the other bigger diving watches out there that uses 44 mm diameters that can be quite hard to wear. I can definitely see the Invicta to be easy on your wrist to be a daily beater watch.
Powering the watch is a Seiko NH35A automatic movement, a fairly basic movement but with the full functionality of modern automatic watch i.e self-winding, hacking and hand-winding. It does have a bit short power reserve at 36 hours though which is understandable due to its price point.
The watch is categorized under Invicta's Pro Diver series and has a good 200 m water resistance on paper. However, due to its very cheap price, I'd take that claim with a pinch of salt.
In any way, that's not a deal breaker as I doubt anyone buying a diver watch will actually dive wearing one lol! It will be able to withstand some water splashes in the toilet and perhaps a dip in the swimming pool but for more rigorous water activities, I don't think you should be wearing it…
One good thing with Invicta is how many models are out there for the exact same watch but with different style and colors. For example, the 8926 have few similar models such as:
8926 – Classic black/silver diver with scallop edge bezel
8926OB – same as 8926 but with coin edge bezel (the OB denotes the coin edge bezel style)
8927 & 8927 OB – two tone colors (gold/silver) with black dial
8928 & 8928 OB – two tone colors (gold/silver) with blue dial (a beautiful color combination!)
2. Invicta Specialty 23533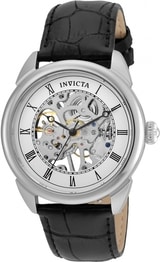 The next watch is Invicta Specialty 23533 is actually cheaper than the 8926 by a few bucks but I had to placed it second because it's a mechanical watch i.e it cannot self-wind and need to be hand-wind by its owner every 1 1/2 days or so (it has 44 hours power reserve).
Although it's not an automatic, I feel that it should be included in this list as its price point is very low making it a good choice for anyone wanting to start with a mechanical-based watch.
Yes, its 8926 is there but as you can notice, not many of the real cheap automatic watches under $100 have a skeleton or open dial display. With such appeal, the Specialty 23533 definitely warrants a place in this list even though it has a mechanical movement.
It has a 42 mm diameter case made from stainless steel. Pairing it is a black leather strap and a silver/white open skeleton dial with roman numbers.
Without a doubt, the look and style of the watch is identical to many classical styles watches from more expensive makers so there's no guessing from where Invicta got their inspiration.
In terms of movement, Invicta put a China-made mechanical movement inside it that is rated with 44 hours of power reserve. Due to this, the watch will be a tad bit lighter because it has lesser part compared to similar sized automatics (and cheaper too).
While being light and cheaper are obvious benefits of mechanical movements, it also has a disadvantage in having to manually wind the movement every 44 hours or less than 2 days for it to be operational.
With this disadvantage, I typically will not recommend it for anyone wanting to use it as a daily beater. Thanks to its exclusive dressy looks with leather strap, the Specialty 23533 will be a good fit as a watch to be used to special events as you will only have to wind it every now and then.
3. Seiko SNK809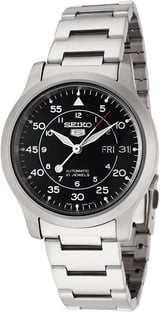 Next up we have the Seiko SNK809, a very popular affordable automatic watch from the famous Japanese company.
At just around $80 to $100 a piece (depending on the seller and model), the SNK809 is a good offering coming from the Japanese watch Giant.
It's also unique in which it uses military/aviation style of dial whereby the hour markers are actually placed smaller compared to the minute markers at the edge of the dial. This gives it an industrial look & style that looks cool at the same time.
You also got the dual date & day display at the right side of the watch which is definitely a good addition to the watch as it gives extra information. But of course, you'll have to squint your eyes a bit as the display is quite small on this watch.
Speaking about small display size, the watch is housed in a 37 mm diameter stainless steel case that makes it very easy to wear.
Its weight will be very light compared to other automatic watches with bigger sized cases. As far as my experience with my similarly sized Seiko SKX013 can tell, it will be almost totally unnoticeable on the wrist!
The watch uses Seiko's own in-house workhorse 7S26 automatic movement that is widely used in their popular diving watches (such as the SKX007 and others). It has a 40 hours power reserve with good self-winding capability.
Now, while the movement is tried-and-tested for more than two decades, it's still an old movement and lack features in a modern automatic movement such as hand-winding and hacking.
What this means is you won't be able to set the time of the SNK809 up to the seconds as when you're pulling out the crown to set the time, the seconds hand will still be ticking unlike other watches that stop the seconds hand completely.
This is called hacking feature and the SNK809 lacks this. In addition, you won't also be able to hand-wind the watch (read more about hand-winding in my previous article here).
Notwithstanding that, it is my personal opinion that the lack of hand-winding and hacking will be a dealbreaker for this watch as it is a well-rounded package and honestly, I don't really miss these features in my SKX013 that uses the same movement.
In terms of models, you can choose between the bracelet model (or the K1 model) and the nato strap model (K2). In addition to the black dial of the SNK809, there's also other dial colors such as cream (SNK803), green (SNK805) and blue (SNK807).
4. Invicta Vintage 22569

The fourth watch in this list is the Invicta Vintage 22569, a stylish gold-plated watch with open skeleton dial.
Although it does look similar to the Specialty 23533 above (no. 2), the Vintage 22569 is definitely trendier thanks to the gold-plated stainless steel case. So if you're in for a cheap trendy classic styled watch, this will make for a great option.
Now, it is a bit more expensive than the Specialty 23533 (around $10-20 more depending on where you shop) but I do think it's justifiable. Why?
For one, the Vintage 22569 has an automatic movement inside it so that can easily justify the price increase. With automatic, you don't have to think about hand-winding the watch regularly as the power reserve is "automatically" recharged just by wearing the watch.
Next, the watch comes in a bigger 45 mm case that surely costs more to manufacture. With that case size, stylish open skeleton dial and beautiful gold color, it's definitely going to be a watch that will grab people's attention towards your wrist.
Completing the package is a brown leather strap that looks perfect with the gold-plated case. In any way, this watch is something that fits well to be worn for special occasions.
5. Citizen NH8354-58A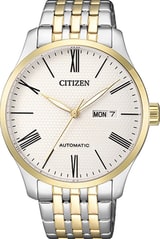 Fancy something less glaring and simple but still looks stylish? Then the Citizen NH8354-58A might be something that you'd want to have a look at.
The watch is a simply styled one without any open skeleton dial. The main attraction is of course the two-tone colors of silver and gold which make it pleasing to look at. It's no wonder this color scheme is commonly used in watches.
If you don't like the two-tone, the same watch is also available in few other color schemes such as classic silver color, blue dial and leather strap versions.
With a matching bracelet, the Citizen NH8354-58A do make for a versatile watch as you can wear it to many occasions such as work, casual outings and functions.
Personally, I love a bracelet strap as it makes the watch much easier to wear and take off. Granted, resizing the bracelet is cumbersome but I've learnt that doing it yourself (DIY) is easy peasy to do (check out how I resize my watch bracelets here).
In addition to the pleasing colors, the watch also comes in a moderate 40 mm diameter, making it looks more elegant. I'd dare say that with such a combination, the NH8354-58A do come off looking more expensive than its sub-$150 price tag!
Although Citizen is not as famous for its automatic watches, it do have some automatic movements developed in-house. In this watch, it's own 8200 caliber is fitted into it ("in-house movement" is something that only few select watchmakers are able to claim nowadays..)
Rounding it up is a good 50 m water resistance rating that will protect the watch from accidental splashes of water.
6. Seiko SNKL23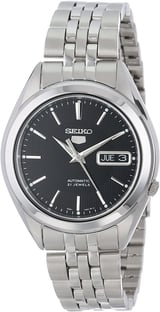 For those wanting a small and simple watch, then this Seiko SNKL23 will be a good option. At just 38 mm, it's the smallest diameter size for a men's watch that you can get nowadays.
If the Seiko SNK809 above (no.3) is more sporty with military styled dial, the SNKL23 here is a dressier watch with simple dial design and highly polished surfaces on its stainless steel cases (yes, the picture does not really do justice as the finishing is actually much better than shown here).
I love how the case has multi-faceted surfaces – typical with Seikos that are sold at double or triple the ~$130 price this SNKL23 commands. Seriously, I've owned few of them (my SARB033 is a very similar one. It cost me ~$350 back then) and this watch definitely has that DNA.
It does have a simple style – a black dial which contrasts with the silver dial markers and hands. For me, I love this simple look as it's basically an understated elegance.
Another thing that you might notice is the unique crown position at 4 o'clock instead of located at the usual 3 o'clock. this position is actually a better one as it will not obstruct your wrist movement, though it looks weird.
But trust me, if you wear your watch on your left hand, this crown positioning is better for you.
It's something that you can wear in and out everyday, to almost all events except participating in sports (which you should never do with an automatic watch!).
So if you're in for a handsome watch as a daily beater, with an automatic movement with a great track record (the 7S26 movement), then this Seiko SNKL23 is the one for you.
7. Orient Bambino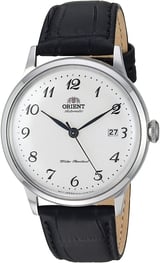 Orient Bambino is a popular automatic dress watch which have been in the market for decades. Orient is a Japanese watchmaking firm and is actually a subsidiary of Seiko.
But unlike many other brands that maintain their watches with the same look (Seiko included..), Orient seems to love giving a refreshed update on its watch models and this Bambino is the same.
Pictured here is the latest Bambino model or the Version 5 with arabic numeral markers in classic font. This is a sharp distinction with the previous Bambino versions that usually feature index markers – so yeah, they really like to spice things up.
In addition, there are differences in sizes and movements in the different Bambino versions so each versions are essentially different watches.
The good thing is most of the versions are available to be bought online so you're essentially spoilt for choice in finding the best Bambino dress watch for you.
For me, I do like the classical look of the V5 here. Not to mention I prefer arabic numerals as it makes the watch much easier to be read. But then again, that's just me and if you want to have a look at the different versions, do check out this neatly arranged guide for some insight.
A good thing with these Japanese companies is how they emphasize in making their own watch movement instead of just out-sourcing it. Orient is one such company and I've always liked how even for such a small company, they continue to equip their watches with in-house movements.
In this Orient Bambino, they've equipped their in-house automatic movement caliber F6722 inside it. Another interesting aspect is you can have a look at the movement through its transparent caseback.
Another good design aspect of the Bambino is its domed mineral crystal that beautifully curved out from its sides. I like domed crystals as it will improve the aesthetics of any watch equipped with one. It does not really show from a front picture but you can check it out from this youtube video here.
With is good looks and design, the Orient Bambino is a serious contender for your next dress watch.
8. Seiko SNZF17 (Sea Urchin)

The next watch is an interesting watch as it's also called as Seiko Sea Urchin. Now why is that?
Well, Seiko watch fans like to give nicknames to popular watches and I can only theorize that the SNZF17 was given the nickname Sea Urchin because of how its big straight lines on the dial from the markers and hands are similar to a sea urchin.
Now, apart from that, the SNZF17 is a unique diver watch that at around $150, offers some solid option for those in the hunt for an automatic diver watch.
What I love about the watch is how different it is from the other typical dive watches. The thing is most dive watches look almost the same (such as the Invicta 8926 above and the Rolex Submariner…).
Well, we can't really blame the watchmakers as any analog dive watch need to have certain elements to be called as dive watch such as a unidirectional rotating bezel, big legible markers, lume on the dial etc. Anyhow, this makes for a rather similar dive watches in the market.
The Seiko SNZF17 plays by the rules but gives its own twist to it. You can see how Seiko makes the markers oversized with respect to the 40 mm diameter watch size. Complementing it is an equally big hands and bezel markers.
These big markers and hands do make the watch more legible and more usable – I mean that's what a watch is for right? To tell time lol!
However, this does make the watch more sporty and less formal so while the SNZF17 is a great casual and outdoor watch, it won't go well with a more serious/formal work attire. Black tie events are a no-no too.
So if you want a no-nonsense outdoor watch with automatic movement, this Seiko SNZF17 or Sea Urchin might be something that you'd need.
9. Fossil Townsman ME3167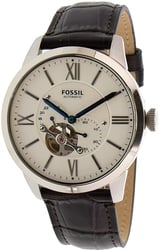 The next watch is the Townsman ME3167 automatic, coming from the popular stylish watch maker Fossil.
Although Fossil is more commonly known as the maker of leather goods and stylish watches (that is usually quartz watch), it also produces some great affordable automatic watches and lately, even smartwatches.
While you won't find any in-house movement with them, I do find their watches to be good looking – they are after all a fashion designer brand – and this Townsman ME3167 is no exception.
It features a 44 mm diameter size case (bigger watch is the trend nowadays) with oversized roman numeral markers on its white dial.
The dial itself is nothing ordinary as Fossil designed a small cut hole on it to show the balance wheel so you can see how that part oscillate magnificently 6 times in a second.
The seconds hand is placed on the subdial at the lower part of the watch while another subdial is placed on its left showing 24-hour time display.
There's definitely no symmetry in the dial design here but in watches, symmetry is not necessarily better. I find this unbalance dial design (to the lower left part of the dial) to look stylish without limiting the watch's main functionality to tell time.
The 24-hour time display is a great addition to a normal watch though. It's actually a replacement to AM/PM display function on digital watch, and it actually looks great here.
Without a doubt, the Fossil Townsman ME3167 is a good buy if you want a stylish automatic watch for casual or dress wear.
10. Seiko SNZG15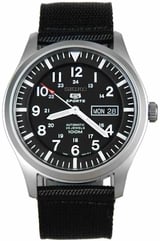 This Seiko SNZG15 and the SNK809 (no.3 above) looks pretty similar and is one reason why both of these can be easily mistaken. However if you look closely, they're completely different watch and would cater to different aspect of fans.
If the SNK809 is petite and small at 37 mm diameter size, this SNZG15 has a much bigger 42 mm diameter size – but still not too big and is a very good size for guys with smaller wrist but can't wear the latest trend of 44 mm watch comfortably on this wrist.
In terms of aesthetics, the SNZG15 also has a more stylish design, in my opinion, with a more "normal" dial design compared to the aviation style of the SNK809.
It is still a military-ish styled watch so you can always count on the ruggedness of the watch to be pulled off with any casual or outdoor outfit that you desire.
I can see that one can definitely wear it to work at an office though I don't it is a good fit with suit & tie. For suits, you're better off with something dressy such as the Fossil Townsman above or Orient Bambino.
Inside the watch is an in-house movement in the form of Seiko 7S36 automatic movement that can be seen from its transparent caseback.
There's also the better than normal 100 m water resistance rating that will enable the watch to be used for light swimming activities.
Lastly to round up the package, the watch has luminous paints on its hands and index markers that is a one of the best features in an analog watch because it will enable you to tell time even in the dark.
The SNZG15 do come in different colors and steel bracelet type. At around $150, it's a versatile automatic watch from one of the best watchmakers currently.
(If you want to learn more, head over to my full in-depth review of the Seiko SNZG15 here)
11. Bulova Classic 96C130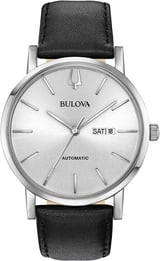 Fancy an automatic watch from one of the more well-known brands from the West without breaking your bank? Then this Bulova Classic 96C130 is the answer.
Bulova is one of the watch brands in the world that can claim to have a long history of heritage from the 1800s. Few watch brands from that time still exists today and Bulova is one of those distinguished brands.
In modern times, Bulova is more well-known for their electric based watch endeavors but this Bulova Classic 96C130 is one of its attempts to diversify its product line up with some automatic watches.
And at the killer price that it's offering ($150-$200), the Classic 96C130 is definitely one of the best value for money buy that you can get here considering you're getting a watch from Bulova.
Understandably, you don't get any Swiss automatic movements (ETA/Sellita) here. To keep prices low, Bulova opted for a Japanese automatic movement instead (there's not enough resources to tell what movement though. If you have any info, do let me know in the comments section below!)
Now for the looks, the 96C130 has a metallic dial look that I really dig here. It's simply styled without much fanfare giving the watch an elegant look.
The sharp slim lines of its markers and hands give the look of a crisp no-nonsense kind of watch which I personally find appealing.
In addition to this white/black leather strap version, there's also the two-tone silver/gold version with stainless steel bracelet (model no. 98C130) that you can get.
Truthfully, if you want an affordable automatic watch and want it coming from a Western brand, this Bulova Classic 96C130 is a very good choice.
12. Seiko SRPC63 (Bottlecap)

Like most guys, I'm a fan of diver watches. I find its ruggedness, high water resistance and ability to take beatings as the factors that make the watch so cool. To be honest, I do enjoy my dressier and casual watches but diver watches always have a special place in me.
Seiko dive watches, in particular, is something that I held in high regards. They like to experiment with their divers, and you will be spoilt for choice with them (the same can't be said with other brands that only produce similar looking diver watches).
And this Seiko SRPC63 is another testament to that. Nicknamed "bottlecap", the watch is unique due to its non-standard design. I mean, it's circular in shape is definitely not similar to how usual watches are!
Seiko achieved this very circular look by making the lugs (or the steel part of the case that holds the strap) not protruding out and sits very close to the case. As you can notice, with other watches the lugs will stick out few mm out.
But of course, they didn't do this for nothing.
As the watch diameter is quite big at 45 mm, using a normal lug design will make the watch overhang out on the wrist. Thus, using a short lugs will ensure this watch is still wearable by most people.
Being a diver watch, it also has the customary unidirectional rotating bezel. Seiko decided to increase its ruggedness to the max with a coin edge bezel. And with a straight side wall, the watch really look like a bottle cap and hence its nickname lol!
There are various models of the watch with different color scheme (SRPC61 with silver bezel, SRPC65 with gradient dial & SRPC67 with black dial and Nato straps) but in my opinion, this SRPC63 is the best looking one. I've always like blue and the watch's deep blue dial with its gorgeous blue bezel looks splendid to me.
At just $160 to $200, the Seiko Bottlecap is definitely a watch that you should get if you're looking for a rugged diver automatic watch to make a statement for yourselves =)
13. Orient Kamasu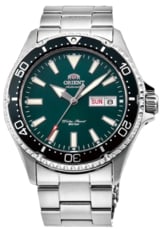 Everyone loves a cheap, high quality diver watch. The ones from Orient, most popularly known are the Mako and Ray models, were some of the popular ones out there. With their low price point and good overall package, they were definitely value for money buys.
Now, Orient have taken that spirit and created this Orient Kamasu, a sort of successor to the 2 watches mentioned before.
Together, with the Orient Kanno (next on this list), the Kamasu brings to Orient fans a refreshing diver watch look at a great price (Disclaimer: it don't normally sells below $200 but you can always grab one at that price during sales season!)
The design of the Kanno is definitely a modern one. If you're familiar with the Mako and Ray (either the original or second versions), you'll notice that their designs are somewhat dated and not as stylish as the divers that other watchmakers usually offer.
The Kamasu (and Kanno) changes all of that. Now, we're getting a modern diver design with sleek and sharp lines on the dial from the hands, the index markers and all the way to the bezel.
Orient says that the design was inspired by the fearsome barracuda fish though I beg to differ. I've seen barracudas before and they are nowhere near as sleek and cool at this watch! (In a way, it does reminds me of the beautiful Seiko Samurai)
Another major surprise is the use of sapphire crystal for its glass. The thing is, sapphire is expensive and usually used on more expensive watches – certainly not for these less than $200 watches.
If you notice, most of the watches in this list uses the mineral cystal or hardlex crystal (Seiko's version of hardened mineral crystal). Mineral crystal is good but it scratches easily.
Sapphire, on the other hand, is highly scratch resistant and will look as pristine for many years to come!
Great looks apart, the Kamasu also utilizes the latest Orient automatic movement inside it. It uses Orieng F9622 caliber automatic movement that gives 40 hours power reserve.
There are many color options to choose from too. If you don't like green, there's the customary black and blue versions. There's also black/gold color scheme on the market if you so choose.
Without a doubt, this Orient Kamasu is a great modern diver watch that you can get affordably =)
14. Orient Kanno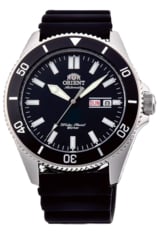 On a glance, the Orient Kanno looks pretty similar with the Orient Kamasu above. However, as you pour over the details, you'll notice that the 2 watch are not exactly the same – it's just they look too similar!
The main difference is the diameter of the watch. This Kanno is a tad bit bigger at 44 mm compared to the smaller Kamasu (42 mm).
It might not seem that much but to those with smaller wrists, the 2 mm will make all the difference when you wear both watches and compare it side by side.
But if you're already comfortable wearing a 44 mm watch, then I guess both watches could do find with you.
Next is the glass or watch crystal on top of it. The Kanno seemingly got the downgrade here as Orient equipped it with the cheaper and non-scratch resistant mineral crystal while the Kamasu got the better sapphire crystal.
To be honest, this is one of the biggest disadvantage of the Kanno compared to the Kamasu – on paper at least. I've had some mineral crystal watches and they still looks fine after few years.
The thing is if you take care of your watches, it will definitely last for a long time. But if you don't take good care of it, then no amount of sapphire crystal or high quality material is going to save the poor watch!
So while the sapphire crystal is highly recommended, mineral crystal works too. You just need to be more conscious about it and take a better care when using it e.g no banging it to hard surfaces/walls etc.
Going on the dial design, I have to say both Kanno and Kamasu are pretty similar save for few differences such as the 12 o'clock marker, bezel minute markers, bezel edge design and seconds hand tip.
Even though the Kamasu is already a sleek watch, I do feel the Kanno is sleeker with less design elements and clutters in its dial & bezel. Overall, it's a cleaner watch design compared to its brother.
15. Bulova Classic 97A136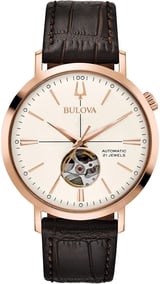 The last watch in this list is the Bulova Classic 97A136, a gorgeous gold-plated dress watch from the American brand.
If anything, I'd say this 97A136 is a sort of visual upgrade to the 96C130 watch (listed no. 10 above) with the fascinating open aperture on the lower part of the dial that shows its balance wheel in all its glory.
The ability to create a unique open aperture on the dial is the unique thing about automatic watch that no modern quartz or digital based watch can copy.
As automatic watch is basically a mechanical machine consisting of hundreds of parts, watchmakers can actually create a stunning watch by opening up or even the whole dial to be seen.
The inner parts can then be decorated and positioned so as to accentuate the aesthetic of the watch. It is in this matter that a highly decorated automatic watch is similar to a jewelry as very high level of craftsmanship and valuable metals/gemstones needed to create one.
This is totally different than other types of watches that usually have some sort of electronic and motor assembly inside it – which frankly don't really look as exquisite as the mechanical parts in an automatic watch!
Apart from the open aperture, the watch also has a simple design that I really appreciate as this makes the opening the centerpiece of the dial.
Another interesting aspect about the watch is its glass crystal which uses a boxy shaped design instead of the normally used flat crystal.
This further enhances its aesthetics as the crystal will look like protruding a bit from the case. I'd like to share that based on my experience with a similar shaped crystal on my Tissot Visodate, having a crystal like this is definitely something unique befitting a dress watch.
If you're on the market for a beautiful dress watch that looks twice its price, the Bulova Classic 97A136 is definitely something you should consider.