Automatic watch is a novel piece of item, and began to be more popular due to its cool factor as well as being a status symbol (its price ranges from affordable to downright insane price!).
Brand plays a huge factor in choosing an automatic watch as some brands are miles ahead of the others in terms of quality due to various factor.
So what are some good automatic watch brands? Below is the list of the 50 automatic watch brands currently:
Seiko
Orient
Fossil
Citizen
Stuhrling
Seagull
Invicta
Tissot
Victorinox
Hamilton
Alpina
Junghans
Oris
Raymond Weil
Sinn
Rado
Zodiac
Nomos Glashütte
Frédérique Constant
Longines
Breitling
Montblanc
Zenith
Blancpain
Tudor
TAG Heuer
Bell & Ross
Omega
Arnold & Son
Bvlgari
Girard-Perregaux
Graham
Jaquet Droz
International Watch Company (IWC)
Ulysse Nardin
Grand Seiko
Rolex
Chopard
Panerai
Credor
Baume & Mercier
Jaeger-LeCoultre
Cartier
Breguet
Hublot
Piaget
A. Lange & Söhne
Audemars Piguet
Vacheron Constantin
Patek Philippe
Let's have a look at each of them and see what have made them who they are today. I will also try to list down some popular models of the brands for your information.
Do bear in mind that the price range listed is an indicative and can vary from what's stated here, depending on where and what model you're buying.
1) Seiko
Link to website: www.seikowatches.com
Origin: Tokyo, Japan
Price range: $80 to $3,000
The Seiko brand is a watch brand that I don't think I need to introduce further. For those new to watches, you might think that Seiko is only producing normal quartz watches and wall clocks – and this is where you're wrong. Seiko is one of the most versatile watch company in the world with products ranging from the cheapest quartz watch to luxurious watches (Grand Seiko and Credor brands. I'll touch on these separately).
The company started way back in 1881 in Tokyo, selling watches and jewelry. It was one of the earliest and still surviving watch companies in Japan. What's interesting is that Seiko is not just focusing on watches like what we thought all this while. Under its Seiko Group, it has numerous companies under it manufacturing various consumer products, electronics, jewelry and even printers (the Epson company is apparently under Seiko as well).

For automatic watch, they have lots of models starting from the most affordable (such as the less than $100 Seiko 5s), more refined Presage and Premier line ups and its sports models under its popular Prospex line.
Another kicker is they also produced almost all of their parts in-house including the movements – this is something that put it in a special position amongst watch brands as most brands will outsource the movement as it's quite hard and not economical to design and manufacture it in-house.
Early fans will recognize Seiko's models of the SKX007, SKX013, Monster, Samurai, Sumo, etc. as some of the most value for money automatic watches. These are highly popular automatic watches with ISO 6425 dive watch compliant that is not just affordable, but also looks cool with robust movement.
If you're just getting started with automatic watches, you just can't go wrong with a Seiko. In-house movement & parts, reputable brand name, long rich history – all in an affordable price point.
2) Orient
Link to website: www.orient-watch.com
Origin: Tokyo, Japan
Price range: $80 to $700

Another Japanese watchmaker on this list is Orient. Just like Seiko, if you think they only produce wall clocks then you're wrong. Orient is also another full fledged watchmaker making their own movements and parts in-house. Unlike Seiko, they came a bit late to the game in
1950
, being founded in Tokyo. One interesting thing about Orient is it's actually a subsidiary of Seiko.
Many watch fans love how Orient bring to the industry an alternative to Seiko's dive/sports watches with their Mako/Ray designs. Although being the same company, Orient managed to bring forward their own distinct design language, much to the liking of watch fans. They also have another sub-brand called Orient Star that uses better quality material and movement.
I personally love how Orient like to implement complications such as power reserve indicator and AM/PM indicator on their watches – all for just less than $500! If you search around, you'll see that no other watch brands do this as usually for less than $500, you'll just be getting a vanilla 3-hands analog automatic watch.
3) Fossil
Link to website: www.fossil.com
Origin: Texas, US
Price range: $100 to $300
The next affordable automatic watch brand is Fossil. Unlike the 2 brands above, Fossil is relatively new in horology having been founded in 1984 in Texas, US. Even though it's widely known as fashion watches (quartz-based) and leather items brand, Fossil also produced automatic watches, some of the cheapest in the market right now.
Their design theme is in the use of open dial whereby you can actually see the inner workings of the movement from a cut on its watch face, with various combinations of subdials for date, day, seconds resulting in many cool watch designs. In addition, as it's a leather accessories brand, you're guaranteed to have various handsome leather watch bands for picking.
4) Citizen
Link to website: www.citizenwatch.com
Origin: Tokyo, Japan.
Price range: $100 to $1,000
The next Japanese watch brand in this list is Citizen. Like other Japanese brands, most people only know it by being a wall clock maker. But that is not the case as Citizen is a watchmaker with a rich history. Founded in 1918 in Tokyo, it has over 100 years of experience in watchmaking, encompassing mechanical, automatic, quartz and solar watches – its most popular product right now.
In terms of automatic watches, Citizen seems to be taking a step back, presumably due to stiff competition from its competitors (both local Japan – Seiko & Orient – and overseas). Instead, they have been making great progress in terms of their solar watches with the very popular Eco-Drive line up. They are one of the market leaders in solar watches with some of the most cool looking and affordable models out there.
5) Stuhrling
Link to website: www.stuhrling.com
Origin: New York, US.
Price range: $100 to $1,500
As relatively new watch brand, Stuhrling is quite popular as a cheap and affordable automatic watchmaker. Established in 1999 in New York, the American brand was actually based on the name of a Swiss watchmaker, Max Stührling. Their watches are adventurous, with open/skeleton dials showing its internal movements. Without a doubt, their affordable automatic watches are quite enticing, with most going below $400.
What's interesting with Stuhrling is they also have tourbillon collection, even though they are a small brand. For those that don't know, tourbillon is a complication devised to negate the effects of gravity to increase accuracy. The balance wheel and escapement assembly are placed in a cage that will continuously rotate and averages out the positional errors (watch this video to see how it works).
Say what you might want about this Chinese-based tourbillon movement, but such effort is highly commendable. At around $1,500, their tourbillon is one of the cheapest that anyone can get (though you might want to look out for their used toubillons which can be had for way less than that price…).
6) Seagull
Link to website: www.seagullwatchcompany.com
Origin: Tianjin, China
Price range: $100 to $1,500
It's no secret that there is a Chinese manufacturer for almost everything on earth, and automatic watch industry is not an exception. For watch fans, you'll surely be aware of the Chinese company called Seagull that manufacturers affordable automatic watches for the masses.
But one thing that impressed me is the history of this company. If you think that the brand is a new brand, then you're wrong as the company Tianjin Seagull Watch Group Co. Ltd. (yes that's its full company) was founded way back in 1955 on the order of the People's Republic of China to have a Chinese watchmaking company in their country. In its 74 years of existence, Seagull have grown to be the biggest manufacturer of mechanical movements in the world, supplying to various brands.
Like Stuhrling, Seagull also sells automatic watches in quite a large price range – from the cheapest $100 watch up to $1,500 automatic watch with tourbillon. But unlike Stuhrling, Seagull actually manufactures their movements which is definitely something that we should give credit to.
In terms of design aesthetic, I personally think it's a hit or miss. While many of their watches are good looking, some of them can be quite off-putting to say the least. In addition, the brand is also infamous for using other popular watches as inspiration. Some people love this as they can purchase a homage with a good movement at cheaper price but some (especially those that own the original watches) abhors this practice.
7) Invicta
Link to website: www.invictawatch.com
Origin: La Chaux-de-Fonds, Switzerland
Price range: $80 to $400
If you're a Rolex Submariner fan, then you should be aware of a brand called Invicta which produced a very similar watch to the Submariner. Indeed, their diver watches such as the 8926 model looks just like the famous Rolex watch, but with slight change on the dial and of course, huge changes in overall material, quality and internal movement).
Love it or hate it, there's no mistake that their Rolex homage watches had propelled them to more exposure among watch fans. What I like is that Invicta does not just sit on their laurels but instead try to come up with their own designs, which is definitely a good thing for the industry.
But perhaps, the most shocking is about the company's history. Initially, I thought it to be a company recently established judging from their use of popular watch designs. But I was mistaken as the company was actually founded in 1837 in Switzerland! Bet you also don't know about this lol!
8) Tissot
Link to website: www.tissotwatches.com
Origin: Le Locle, Switzerland
Price range: $400 to $2,500
Tissot is a brand that I'd say as among the most affordable "real" Swiss watch brands in the market right now. Starting at $400, you can get a good quality automatic watch with Swiss famed quality and craftsmanship from the brand (in fact, I'm owning and very pleased with their Visodate watch – read what I think about the watch here).
Founded in 1853 in Le Locle Switzerland, the brand is definitely rich in history and is one of the few Swiss watchmakers that had successfully endured the Quartz crisis in 1970s. The brand is currently nestled inside the Swatch Group right now – where all brands have their own place and target demographic- and for Tissot, it's the middle range price of watches.
But what's special about the brand is it's wide array of products, numbering over hundreds of current models. Of course, there's the mechanical and automatic watches that were its origin and they are very proud of that. In addition to that, there's also sports-centric watches using quartz movement. And to top it off, they also have a touch-based watch with their T-Touch collection. With such a wide range of watches, you're sure to find something that you like with Tissot.
9) Victorinox
Link to website: www.swissarmy.com
Origin: Ibach, Switzerland
Price range: $500 to $2,000
Victorinox is more widely known as a Swiss knife manufacturer but do you know it also produces automatic watches? Founded in 1884 in Ibach, Switzerland, the company was initially focused on manufacturing utility knives for the use of the Swiss army. It was only in recent times that it ventured into other products such as cutlery, travel gear and even fragrances. I kinda like their travel gears as it was manufactured by the same guys that produced the famed army knives (see the marketing there?).
The brand ventured into timepieces around 30 years ago and have been going strong till now. Their watches uses ETA's robust movement and looks primarily utilatarian to complement their brand image as a producer of the indestructible army knives. In other words, it looks cool as hell! But I feel that there's a lack of dressy options in their inventory, as they only produced a small number of collections as compared to Tissot which is a dedicated watch brand. If you want something more obscure but still affordable with Swiss quality, Victorinox might be the one for you.
10) Hamilton
Link to website: www.hamiltonwatch.com
Origin: Lancaster, Pennsylvania, US.
Price range: $500 to $3,000
The next watch brand is a popular brand that was featured in my movies, the brand Hamilton. Just by looking at its name, we can infer that it's an American brand, which is correct as it was founded in 1892 in Lancaster, Pennsylvania, US. Unfortunately, the brand was sold off to the Swiss Swatch Group a few decades ago, thus ended the american ownership of one of its most illustrious watchmaker.
Putting that aside, Hamilton has grown into a global watch brand making beautiful watches for the mid-range of prices. And if you're a fan of Hollywood movies, then you might have glimpsed over their watches in many a feature films. For example, their watches were used in the box office films Interstellar, The Martian and even Stanley Kubrick's 2001: A Space Odyssey.
And for fans of the late King of Rock n' Roll, surely you must remember the iconic V-shaped Ventura watch worn by Elvis (of which Hamilton had created a homage for that with modern movement). With such a rich history and culture, a Hamilton watch is definitely a good choice for watch & film fans.
11) Alpina
Link to website: alpinawatches.com
Origin: Switzerland
Price range: $700 to $4,000
Alpina is another watch brand with a rich history, having been established way back in 1883 in Switzerland. I like how their watches have their "Alpina" signature and logo at the center of its dial. Coupled with their distinct design which is kind of minimalist but practical with frequently over-sized numerals, their watches are definitely a good choice for those preferring more tool-like timepiece. There's also more trendy designs but I don't think I've seen a dressy Alpina.
One interesting bit about the brand is it not just designs and manufactures the watch case/dial, it also tinker with their movement, placing them on an exclusive group of watchmakers that produce an in-house movement for their watches. With this being said, some of their cheaper watches still use other famous movements such as Sellita SW200 or Valjoux 7750 chronograph. This effort in movement technology firmly places Alpina on a different level than the other watch brands.
12) Junghans
Link to website: www.junghans.de
Origin: Schramberg, Germany
Price range: $800 to $2,000
The first German watchmaker in this list is Junghans, famed for their simple and clean watches. Seriously, if you want to find an automatic watch with a sleek look, and built with such great craftsmanship, then Junghans should be one of the brands that you look for.
The brand was conceived by Erhard Junghans, a German watchmaker, in the year 1861. From then on, it grew to be one of the largest German firm in watchmaking. Itching for a clean minimalist watch? Then a Junghans watch would really fit the description. Some of their popular models are the Max Bill and Meister line ups.
13) Oris
Link to website: www.oris.ch
Origin: Hölstein, Switzerland
Price range: $700 to $7,000
Next we have Oris, which was founded in 1904 in Switzerland by a duo of watchmakers, Paul Cattin and Georges Christian. The brand was quite successful since its inception and was one of the largest watchmakers in the 1960s-1970s. But due to the quartz crisis, it hit rock bottom, so much so it had to resort to be part of the Allgemeine Schweizer Uhrenindustrie AG (ASUAG), the former name of the Swatch Group.
But being part of a group meant that they would have to cooperate and focus on areas that might not be suitable for them. Some say they were forced to produced low-mid range quartz movement, something that not really part of their DNA. Thus, in 1982, Oris, lead by the duo Dr Rolf Portmann and Ulrich W. Herzog became independent again through a management buyout.
Since then, the brand had been focusing solely on automatic/mechanical watches. While most of their lower priced watches use movements re-branded/upgraded from Sellita, their higher priced timepieces usually feature an in-house movement, such as the 10-days power reserve handwound Caliber 110. Some of the Oris models that I really love to own are the Aquis (dive watch), Big Crown (aviation) and the dressy Artelier models.
14) Raymond Weil
Link to website: www.raymond-weil.com
Origin: Geneva, Switzerland
Price range: $700 to $2,000

Being one of the more famous watch brands from Swiss, one can't never guess that Raymond Weil is actually a family owned company, instead of one of the brands in a huge watch groups. It's actually a wonder how the brand could've such serious progress even after only being established in
1976
(short of 50 years ago!), all the while being an independent brand without the backing of a watch group.
Being an independent and comparatively new brand means their styling can be quite different than what the other older Swiss brands have. Their watches mostly fall to the classy simplistic styling, with little over-the-top decorations and designs. And at their price point, it's easily one of the more accessible Swiss automatic watches in this list. Perhaps their most "outrageous" models were their music icons line ups, where they paid homage to The Beatles, ACDC and Bob Marley – If you're a fan of these legends you definitely should check it out.
Movement wise, Raymond Weil usually use an ETA or Sellita movements in their watches – well, can't expect much from an independent brand with a small size such as them. What I like about them is they also did some improvement over the base movements such as adding a moonphase module on a stock ETA 2824.
Such endeavors are proofs of their technological effort, that culminated with their first proprietary automatic movement, the Freelancer 1212 that was released in 2017. Although Sellita was the manufacturer for the movement, the design was entirely by Raymond Weil and is a testament of the brand's pursuit of technical know-hows. Frankly speaking, I've been rooting for them since the day that I learned about this =)
15) Sinn
Link to website: www.sinn.de/en
Origin: Frankfurt am Main, Germany
Price range: $1,000 to $15,000
The next German watchmaker firm in this list is Sinn, which is more widely known as the maker of functional chronograph watches for pilots. But they also produce some classic/dressy and dive timepieces but in my honest opinion, their strengths lies in their chronographs.
Compared to typical 3-hands watch, a chronograph is much harder to do it right: you'll need the technical knowledge, more fine parts as well as the ability to make it those busy dial elements with lots of subdials, needles, scales (tachymeter, telemeter, slide bezel rule) look presentable and cool. And Sinn have managed to balance this all out to create some of the best automatic chronographs around.
Founded in Frankfurt am Main, Germany in 1961, its founder, Helmut Sinn, was a pilot which kinda explained the brands emphasize on aviation watches.
16) Rado
Link to website: www.rado.com
Origin: Lengnau, Switzerland
Price range: $700 to $2,000
Next automatic watch brand is Rado, which hailed from Lengnau, Switzerland and was founded in 1917. Well, actually, its watchmaking company Schlup & Co. was founded in 1917 by the brothers Fritz, Ernst and Werner Schlup. Rado, as a brand that we know today, was first used by the company to market its watches in the 1950s.
While other watchmakers strive to innovate the movement, Rado instead focuses in watchmaking material, moving away from the typical stainless steel to more novel materials such as high strength ceramics and sapphire crystals. Their watch designs are distinctive, with many pieces using a simplistic design while some have unique shapes.
17) Zodiac
Link to website: www.zodiacwatches.com
Origin: Le Locle, Switzerland
Price range: $1,000 to $3,000
Zodiac's brand name is not as popular as other watch brands, despite being founded in 1882 (137 years ago) by watchmaker Ariste Calame in Le Locle, Switzerland. It was a popular sports automatic watch brand back in the early to mid of last century with their Sea Wolf and Autographic watches.
However, the company went bankrupt in 1990s after an acquisition of it by private investors went awry. It was largely not present for at least a decade until Fossil Group purchased the company and released new Zodiac models in 2002. However, their Sea Wolf watches were only re-released in 2015, much to the delight of their fans. The current Sea Wolf line up have very distinct retro look to it but within a modern case and movement. It's not really my cup of tea but then again, tastes will vary from person to person.
The Zodiac watch that catches my eyes are the Olympos watches with unique unsymmetrical case which kinda look like a shield. It looks superbly stunning especially with the highly polished multi-faceted case. It's quite funny that Zodiac might have been popular with their sports watches, but the watch that I adore from their collection is this dressy model LOL!
18) Nomos Glashütte
Link to website: nomos-glashuette.co
Origin: Glashütte, Germany
Price range: $2,000 to $8,000
Tired with the same old automatic watch design and yearn for a modern, simplistic look? Then Nomos might be the watch for you. With thin bezel, short profile and huge watch face in mono-colour, Nomos watches are very modern looking, just like those watches from Daniel Wellington. But unlike the former brand, Nomos is a watchmaking company hailed from Germany with only either automatic or manual watch movement in it.
Unlike most watchmakers, Nomos is one of the few brands that actually design and manufacture their movements in-house. And to make it more impressive, the brand was founded in 1990, which is just 29 years ago! That's like a toddler's age in horology! The fact that they can achieve so much in just a short span of time is nothing but exemplary!
One thing that I love about Nomos watches is how they never want to copy other watchmakers and stick to their DNA in watch design: almost bezel-less, thin profile, thin hands & markers and monotonic color pallet. These are the recipes for a very modern, clean and simplistic design. I can say that I'm a classic dive watch's guy but their watches are refreshing and cool to look at. Definitely a handsome piece that will grab attention to your wrist =)
19) Frédérique Constant
Link to website: frederiqueconstant.com
Origin: Geneva, Switzerland
Price range: $800 to $30,000
Another "new" watchmaker in the game is Frederique Constant, having been founded in 1988 in Switzerland. And yet, the brand had grown into one of the bigger Swiss brands currently. With the motto of "Accessible Luxury", the brand had some of the value for money Swiss automatic watches around, with prices starting at lower than $1,000 for their entry level pieces. It goes all the way up to $30,000 for their finer pieces with precious metals and gemstone embedded watches.
In terms of movement, Frederique Constant was seen to be quite ambitious in developing their own calibers with some new movements coming up since they started doing research and design in 2001. With that being said, their own calibers are only available in their pricier watches as the entry level stuffs are mostly equipped with either ETA or Sellita movements (presumably to keep costs down).
20) Longines
Link to website: www.longines.com
Origin: Saint-Imier, Switzerland
Price range: $1,000 to $10,000
Longines and its winged logo might need little introduction to watch fans. Founded in 1832 in the Swiss, the brand is one of the oldest watchmakers in this list, so yeah, it definitely have lots of history in its over hundred years of existence. Currently, it's one of the brands under Swatch Group and is marketed at the luxury level of watches.
One thing that I've noticed is that a watch brand with long history typically have huge amount of watch models and collections in its stable. And that is certainly the case with Longines: it has everything from classic to dressy to sports/divers to chronographs. For a watch brand that put elegance at its fore, it's collection is mostly in the form of classical and dressy watches although their sporty watches (such as the popular Hydroconquest dive watch) are definitely worth checking out too.
A cool trivia about Longines is that the world renowned scientist, Albert Einstein, actually owned one of its watches during his lifetime. And what's more interesting is the watch was auctioned in 2008 for a cool USD 596,000, hundreds times over the price that the auction house expected for.
21) Breitling
Link to website: www.breitling.com
Origin:  Saint-Imier, Switzerland
Price range: $3,000 to $20,000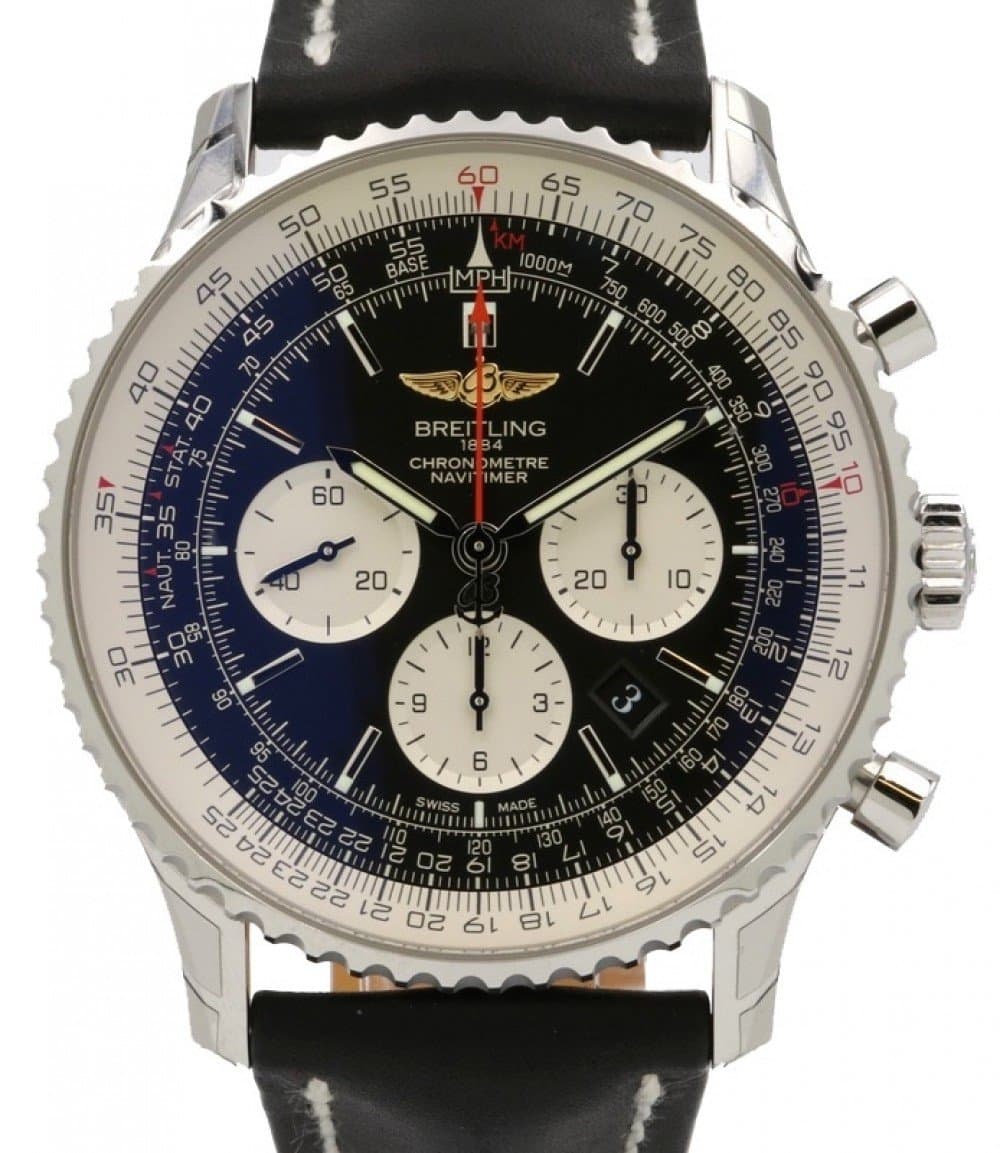 The name Breitling is so synonymous with chronograph watch, even though they were not the one who invented it first (that prestige went to the Frenchmen Louis Moinet who invented it in 1816. It all started by its founder, the Swiss watchmaker Léon Breitling that focused on chronographs as it was very popular for timekeeping uses in the industry. It also had contributed to the development of automatic chronographs in the 1960s, further cementing their name in the hallmarks of watchmaking.
Founded in 1884 in the Swiss, Breitling is one of the brands that is famed for aviator watches. Their Navitimer models, for instance, is one of the iconic watches for pilots and those that love functional chronographs with cool dials, slide bezel rule and the like. From there, the brand has many other line ups consisting not only of chronographs but also diver watches and some classic dressy timepieces.
22) Montblanc
Link to website: www.montblanc.com
Origin: Hamburg, Germany
Price range: $2,000 to $8,000
The next brand is Montblanc, which is more widely known as an fountain pen brand. But just as Victorinox, it had ventured into other things apart from its original product and now, Montblanc has a wide range of luxury products from leather goods, bags, accessories, and yes, watches.
Founded in 1906 in Hamburg, the brand's watches are more towards classical design: simple, sleek and handsome without any out of norm styling. The movements are usually either normal watches or chronographs.
23) Zenith
Link to website: www.zenith-watches.com
Origin: Le Locle, Switzerland
Price range: $3,000 to $20,000
Just like Breitling, this next brand is also famous for its chronograph movement. Zenith was founded in 1865 in Le Locle, Swiss, and is currently one of the sought after brand if you're thinking of getting a great Swiss automatic chronograph. It was founded by young Georges Favre-Jacot, and is now one of the brands under LVMH Group.
Zenith watches mostly consists of clean & cool chronographs though there's also the dressy Elite line up featuring normal dial or moon phase complication. Without a doubt, the legendary El Primero automatic chronograph movement is one of the defining element of the brand, so much so it's still popular till today, 50 years after it was first launched in 1969.
24) Blancpain
Link to website: www.blancpain.com
Origin: Villeret, Switzerland
Price range: $6,000 to $80,000
If the brand's history is of importance to you, then you will definitely like this next brand. Blancpain, is one of the oldest surviving watch brands in the world, having been founded in 1735, about 284 years ago. So yeah, the brand is about as old as you can possibly get. Currently, it is one of the top tier brands in the Swatch Group.
To me and most watch fans, Blancpain was well regarded as the first to introduce a real working dive watch to the world. It's Fifty Fathoms watch (so called because it has water resistance rating up to 50 fathoms or 91 meters) was developed in 1953 with input from the French Navy unit. It's design elements continue to be used by other dive watches from then on.
Another important watch line up for the brand is the Villeret Collection, which was named after Blancpain's original site (the brand is now headquartered at Paudex/Le Brassus, Switzerland). Unlike the Fifty Fathoms, the Villeret collection is a huge line up of classical/dressy watches with almost all complications such as normal automatic, chronograph, tourbillon, moon phase, etc.
25) Tudor
Link to website: www.tudorwatch.com
Origin: Geneva, Switzerland
Price range: $2,000 to $10,000
If you're thinking about what is Tudor and its relationship with Rolex, then rest assured that you're not the only one having this question. The fact of the matter is Tudor is currently a subsidiary of Rolex, although historically this is not the case. You see, Tudor was founded in 1926 in Geneva by Veuve de Philippe Hüther on paper. The thing is Hans Wildorf, Rolex's founder, intended to use Tudor as a sister brand to market watches with Rolex-like quality but at more accessible prices.
It was not until 1936 when Hans Wildorf took over the brand entirely under him and went on to found the Tudor company as it will be known right now. In the beginning, Tudor watches were usually parts sourced from Rolex when sometimes Rolex signature can be seen on the watch's parts. But as the brand matured, it began to become independent from its older sibling and is now one of the respectable watch brands in the world.
Actually, the story of Tudor and Rolex is quite an interesting one as not many watch brands will venture into a lower price range. The marketing tactic by Hans Wildorf was a genius move as it will enables Rolex to sell good watches at lesser prices without jeopardizing the good name of Rolex – which truly paid off as Rolex is one of the most sought after watch brand in the world right now. Fancy having a Rolex but can't / don't want to pay huge amount of money for it? Then a Tudor is a really good substitute then =)
26) TAG Heuer
Link to website: www.tagheuer.com
Origin: Saint-Imier, Switzerland
Price range: $2,000 to $15,000
Tag Heuer is a brand that is iconic and synonymous with motorsports, having sponsored many superstar drivers from around the world. Their watches such as the Carrera, Monaco and Aquaracer are some of the coolest sporty automatic watches that you can find.
But do you know that the brand Tag Heuer is not what it was originally?
Actually, Tag Heuer was a combination of the brand "Tag" and "Heuer". Heuer (or its full name Uhrenmanufaktur Heuer AG) was the watchmaking company founded in 1860 by Edouard Heuer. Over the century, Heuer was one of sports oriented watchmaker with specialization in chronographs. After WWII when motorsports become popular, it was naturally roped into that scene and soon become a favorite among drivers and fans alike.
It was not until 1985 that Tag Heuer was formed after Heuer was purchased by the company TAG (Techniques d'Avant Garde). Tag was a parts manufacturer for Formula One cars and it inserted its name into the watchmaking company after the purchase and the name sticks until now even after Tag Heuer was bought by the luxury goods maker LVMH Group in 1991.
So now you know the history of the brand, I'd appreciate if you'll stop calling the brand "Tag" as its totally not respectful to the founders of the watchmaker i.e Heuer. Consider referring them with their full brand name "Tag Heuer" or just "Heuer" =)
27) Bell & Ross
Link to website: www.bellross.com
Origin:  Paris, France
Price range: $2,000 to $20,000
The next brand is a newcomer to the industry, having just set up shop in 1992 (27 years ago!). Now that's a very short time for a watchmaker but Bell & Ross had shown that with tenacity and business acumen (and of course, great watches) they were able to flourish in a very competitive industry.
The brand name is actually a combination of the names of its founders: Bruno Belamich ("Bell") and Carlos Rosillo ("Ross"). Bruno was an intern at Sinn, and it was due to this connection they managed to secure some Sinn watches to be repackaged into their own watches. This initial arrangement lasted for a decade or so, before Bell & Ross proceeded to manufacture their own watches in the beginning of this century.
Bell & Ross watches most popular watches are the utilitarian military and aviation watches with distinctive square shaped case and perfectly legible hands and markers.
28) Omega
Link to website: www.omegawatches.com
Origin:  La Chaux-de-Fonds, Switzerland
Price range: $3,000 to $20,000

Omega is a watch brand that I'm sure most of you will know of. It's one of the quintessential modern watch with cool and beautiful designs. And add to that their huge marketing efforts (featured in James Bond films, lunar landings and numerous public figures) and you get a legendary watch brand that not many can compete with in terms of brand name and popularity.
Founded in 1848 in La Chaux-de-Fonds, Switzerland by Louis Brandt, Omega has many popular models so much so even someone new to watches can recognise. In part, this is due to the heavy product placement of the brand in various industries such as movies, golf masters, yachting and the olympics.
But without a doubt, their most prized and coolest (at least, according to me) is the Speedmaster chronograph watch, the watch that was chosen to be used by US astronauts to land on the moon. I mean, how much more street cred you'll need from a watch that actually was used to go to outer space, being used on the moon, and get back down to earth? In addition to that, the watch is beautifully designed and looks seriously good!
Omega also have a very successful marketing campaign by promoting their watches in the James Bond movies starting from the 1990s. Their sports oriented watches such as Seamaster, Planet Ocean and Aqua Terra benefited greatly from being associated with a dashing super spy. And yes, having great design and movement do help to sell those watches!
29) Arnold & Son
Link to website: www.arnoldandson.com
Origin: London, England
Price range: $3,000 to $20,000
Although Switzerland,Germany and France were some of the biggest watchmakers in the early years of horology, England also has it's fair share of legacy in Arnold & Son. It was founded in 1787 – 232 years ago, much earlier than most of the brands in this list! The technological advancement brought by the company was astonishing and can be tributed to John Arnold, the brands' founder.
John Arnold was a celebrated watchmaker in the early days of horology and had been instrumental in improving the mechanical movements as we know it. But his most well-known contribution would be to invent a reliable and robust chronometer which was used extensively by the seafaring community for their expeditions.
The brand suffered a setback as it was discontinued in the 1850s when John Roger Arnold (the founder's son) dies and the ownership of it were purchased by Charles Frodsham. Perhaps due to little know-how, the firm cannot continue on and closed shop. It was not until 1995 when the brand was resurrected and relaunched nearly 140 years later.
Arnold & Son current watch line up features classical dress watches, either in simple movement or with complications. I particularly love their moon phase watch (Tourbillon Chronometer No.36) – those deep blue dial looks majestic with beautiful finishing. But of course, the star of the show will go to their Tourbillon Chronometer No.36, a tribute to John Arnold's original Chronometer No. 1/36, his first chronometer watch. With an open dial, the watch showcases the chronometer and tourbillon movement in all its glory!
30) Bvlgari
Link to website: www.bulgari.com
Origin: Rome, Italy
Price range: $5,000 to $40,000
Bulgari (or popularly spelled as Bvlgari) is an italian brand founded in Rome, Italy in 1884. It started as a jeweler, and have been involved in everything luxurious – from leather goods, accessories, fragrances, and even hotels! Since a few decades ago, it was also involved in watchmaking, another case of a jeweler turned into making watches.
One of their best known invention is the Serpenti ladies watch that features a very unique circling body to hold the watch in your wrist instead of the traditional watch band (watch this video to look at it). Truthfully, this is a really novel design which looks really great. Of course, I don't think I will wear one but I was just astounded at how sleek and beautiful the watch is.
In terms of men's watches, Bulgari line up comprises of Octo (with octagonal shape case), Bvlgari Bvlgari (a line up with call back to its Italian roots) and Haute Horlogerie (as the name suggests, a line up of luxury watches with fine craftsmanship and advanced movements).
31) Girard-Perregaux
Link to website: www.girard-perregaux.com
Origin: La Chaux-de-Fonds, Switzerland
Price range: $5,000 to $200,000
Girard-Perregaux is another Swiss luxury watchmaker hailed from La Chaux-de-Fonds. It was founded in 1852 by Constant Girard, initially as Girard & Cie. The watchmaker then married Marie Perregaux and the manufacture changed it's name into Girard-Perregaux Manufacture in 1856. In 1906, it acquired the Bautte Watchmaking House which interestingly had a longer history having been founded in 1791 by watchmaker Jean-François Bautte. The brand had been going strong since then and is currently under the Kering Group.
The brand is one of a vertically integrated watchmaker from its roots since the 1800s. One of its achievements is the creation of the first mechanical movement with 36,000 vibrations per hour, the highest in the world at that time. This enables the watch to be theoretically more accurate than the usual 28,000 vibrations per hour movements and also have a more sublime sweeping seconds hand action. The Gyromatic HF movement paved the way for hi-beat movements from other watchmakers to do the same.
Perhaps their most notable design is the tourbillon with three golden bridges, which was first unveiled in their pocket watch in 1884. The thing is tourbillon and bridges are not uncommon in watches. But what Girard-Perregaux did was to align the three bridges holding the barrel, gears and tourbillon in a parallel direction across the watch, creating a unique and symmetrical design that is technically as well as aesthetically pleasing (the dial is open, hence showcasing the movement in all its glory)
Currently, the tourbillon with three golden bridges are also available in their wristwatches in various designs. In addition, there's also the 1966 collection (classic dressy watches), Laureato (octagonal shaped case), Cat's eye (beautiful timepieces embedded with diamonds and gemstones) and the Vintage 1945 collection (squared shaped classic watches).
32) Graham
Link to website: graham1695.com
Origin: London, England
Price range: $5,000 to $30,000
The Graham watch brand was named after celebrated English watchmaker, George Graham. He was the partner of Thomas Tompion, widely regarded as the "Father of English Clockmaking". The Graham watch brand was started in 1695 (324 years ago!) which is definitely one of the oldest in this list. But unfortunately the brand was closed sometime in the 1700s. The current Graham watch brand is restarted by The British Masters company in 1990s.
Due to its short life, the current Graham watch brand does not have much models in its name. There are currently three collections in its stable: the big sized chronograph "Chronofighter" with (gaudy?) crown protection, sporty racing inspired chronographs "Silverstone" and novelties Geo.Graham which features tourbillon and moon phase models.
33) Jaquet Droz
Link to website: www.jaquet-droz.com
Origin: La Chaux-de-Fonds, Switzerland
Price range: $10,000 to $200,000
Jaquet Droz is a watch brand named after the genius Swiss watchmaker Pierre Jaquet Droz. The current watch brand was resurrected by the Swatch Group in the 2000s and focuses on haute horlogerie. Now, one very interesting thing about Pierre Jaquet Droz is he was not only a master watchmaker (he lived in the 1700s) but instead of turning into jewelries like other watchmakers, he has a penchant for mechanical engineering, creation of robots (or automaton as it was called then).
Pierre Jaquet Droz, with the help of his son (Henri-Louis) and adopted son (Jean-Frederic Leschot) built many interesting engineering pieces, building from his watchmaking endeavor. For instance, there was the repeater watch using bird chimes! Now that is something entirely different than whatever every other watchmakers were doing at that time.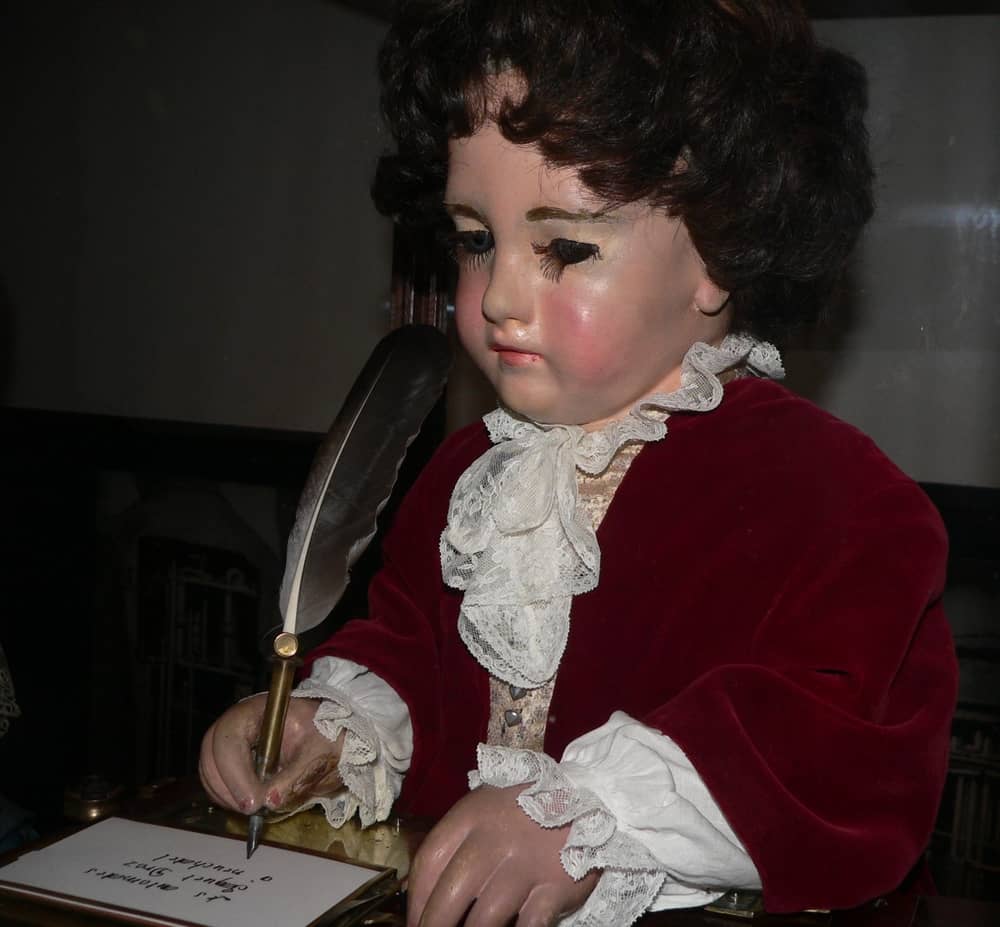 But perhaps their most popular work is their humanoid automatons (yep, this was in the 1700s!). There are 3 variations of the automaton dolls: The Draughtsman (a boy doll which can draw 4 different images beautifully), The Musician (a girl doll that can play a custom made organ) and The Writer (a boy doll that can write some 40 letters long sentences, using real ink!). The degree of automation in these dolls were enormous and is one of the earlier effort by mankind in the realm of robots.
(Check out this video to see the dolls in action)
Currently, Swatch Group tried to capture the prestige of the Jaquet Droz' great watchmaking history by making novel watches. There is the Automaton watch lineup with novelties such as a bird repeater watch, a watch that can show lotus flower opening and my personal favorite, the Magic Lotus Automaton watch that showcase beautiful scenery of a lotus pond (watch this video to see it!).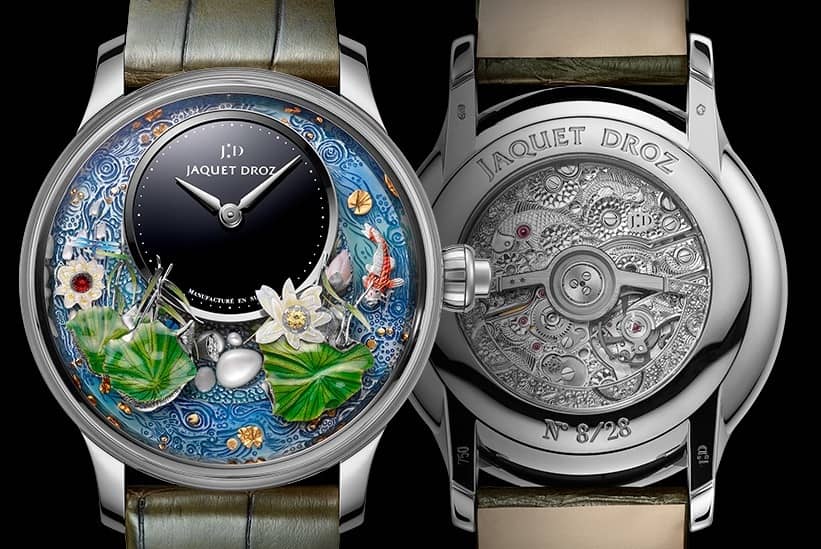 34) International Watch Company (IWC)
Link to website: www.iwc.com
Origin: Schaffhausen, Switzerland
Price range: $5,000 to $80,000
This next watch brand is interesting as it's history is a bit different than the other Swiss watch brands in this list. For a start, IWC (or International Watch Company) originated from Schaffhausen, which is the North Eastern part of Switzerland, in fact, the only watchmaking company in this part of the country. This is interesting as most of the other Swiss watch brands originated from the Western part of Switzerland (Tissot & Zenith at Le Locle, Omega at La Chaux-de-Fonds, Blancpain at Villeret, Breitling, Longines & TAG Heuer at Saint-Imier).
Due to this, IWC are usually said to have more in common with German's brands (due to its location proximity with Germany) than with other Swiss brands. The second interesting thing about it is its founder is an American (watchmaker Florentine Ariosto Jones) rather than a Swiss or a European. Mr Jones actually wanted to capitalize on Swiss low wage workforce to manufacture watches for the American market (which could explain the reason why the brand's name is as such).
Like other watch brands at this price range, IWC watches use a combination of modified base movements (from ETA/Sellita etc.) for their lower priced watches and in-house developed movements for their higher end pieces. Their watches usually have clean and crisp dials. There are also chronograph models to be chosen from.
Some of IWC's popular collections are the Portugieser (the classic IWC watch), Pilot (watches designed for the physical and functional needs of aviators) and the Ingenieur (rugged watches with high technical specs).
35) Ulysse Nardin
Link to website: www.ulysse-nardin.com
Origin:  Le Locle, Switzerland
Price range: $5,000 to $100,000
Ulysse Nardin is one of the older watch brands in this list. Being founded in 1846 in Le Locle by the watchmaker Ulysse Nardin (yes, the brand's name is taken after its founder), it played an instrumental role in advancement of chronometers which indirectly helped making automatic watches more accurate for us. Currently, it resides under the Kering Group, alongside other luxury brands such as Gucci, Yves Saint Laurent, Balenciaga and others.
The brand has a long history with marine/navy so much so at one point of time, they were one of the main suppliers of marine chronometers to many of Western Navies. Due to this, it does have a long collection of great chronometers with impressive performance and craftsmanship. In addition, they also produced beautiful timepieces such as the Genghis Khan, Moonstruck and Sonata watches – which is just like an art on a watch.
But perhaps their most interesting watch currently would be Freak watches, born in 2001 under the leadership of the duo  Rolf Schnyder and Ludwig Oechslin. The Freak watch was and still is one of the more futuristic watch around, even if compared with the swathes of smartwatches in this days. It does not have a dedicated hands but instead the time is indicated by the movement as it moves! Yes it's quite hard to imagine so you can just check out this video to see it for yourselves. In addition, the watch also uses silicon in its movement, one of the first brands to do it.
36) Grand Seiko
Link to website: www.grand-seiko.com
Origin: Tokyo, Japan
Price range: $5,000 to $70,000
Grand Seiko – this is the Japanese's answer to luxury Swiss and Germany watches. Any Seiko fans would instantly know that Grand Seiko is not just your normal Seiko watch. It's usually considered to be at par or some might say even exceeds the quality in most luxury watch brands in this list. And yes, since it's a Seiko, you do get that value for money proposition with Grand Seiko pieces.
Although Seiko is an old company founded in 1881, it was not until 1960 when Grand Seiko was conceived as a way to showcase that the brand's craftsmanship and watchmaking is at par with the Western brands. What I like about their watches is how it's not over the top aesthetically. Grand Seiko's design language remains fairly the same over the decades – crisp and simple designs – and this actually makes their watches such good everyday beater watches.
Movement wise, Grand Seiko has the best that the large company has to offer such as hi-beat movements with long power reserves. But one thing that makes the brand sticks out is it also houses Seiko's spring drive movement, one of the revolutionary movements right now. Spring drive combines the best of automatic and quartz technology, creating an entirely new type of movement that is truly astonishing (If you want to learn more about spring drive movement, read about it further on my article here).
37) Rolex
Link to website: www.rolex.com
Origin: London, UK
Price range: $6,000 to $100,000

The quintessential Swiss automatic watch brand, Rolex. Almost anyone would instantly recognized the brand with its pointed crown logo. Most people would associate Rolex with being the pinnacle of luxury even though that's not truly the case – for instance, many watchmakers in this list have more expensive watches than Rolex. They do make ultra-luxury watches, but they also have many watches at the entry level luxury with practical design such as the Oyster Perpetual and Submariner stainless steel models.
Who would have thought that Swiss watch poster boy was actually founded in London, UK in 1905 by the duo Hans Wilsdorf and Alfred Davis. At that point of time, the company was called Wilsdorf and Davis and was actually an importer of watch movements and then putting it into their own case (kinda like the fashion watch brands nowadays). It was not until 1920 when the company moved to Geneva, Switzerland in 1920 right after the WWI to avoid the higher taxes imposed by the UK to fund its post-war recovery. At this point of time, the company adopted the Rolex officially.
Another interesting thing is the brand name "Rolex" is not named after anything, anyone nor it even has any meaning. It was reported that they chose "Rolex" because it's easy to be pronounced in any language, which is quite far-sighted I would say. In addition, having a short brand name also makes it easy to fit it on the dial instead of a long name taken after the founders', like some of the other brands.
Currently, Rolex is one of the most well-known watch brand around the world. Just like the other well-established brands, you can see the distinct Rolex styling on their watches: the clean dial with immaculate craftsmanship. Although you can never get it wrong with a Rolex, do note that it's also one of the most counterfeited watch – so tread carefully especially if you find a great discounted deal that just too good to be true =)
38) Chopard
Link to website: www.chopard.com
Origin: Sonvilier, Switzerland
Price range: $7,000 to $80,000
Jewelry and watches often goes together and it was said that back in the early days, a watch is a form of jewelry for the well-to-do. This fact is certainly true to Chopard, which in addition to being a watchmaker, is also selling luxury jewelries. Chopard was founded in 1860 in Sonvilier, Switzerland by Louis-Ulysse Chopard. It is currently owned by the German family Scheufele since the middle of last century.
Coming from a firm that also make luxury jewelries, you can expect that their watches to be stylish, but not overbearing. You can also expect rare materials and gemstones on their watches. Movement wise, they usually use base ETA/Sellita movements in their lower priced watches but equipped their higher priced timepieces with in-house movements.
39) Panerai
Link to website: www.panerai.com
Origin: Florence, Italy
Price range: $5,000 to $30,000
Although it is the first Italian watch brand in this list, Panerai is not uncommon among watch fans. While other luxury watchmakers have sleek, classic watches, Panerai watches are distinguished by its huge pillow shaped large cases (42 to 44 mm in diameter on average) and its distinct crown protecting bridge. Without a doubt, their unique design language is going to be quite polarizing – you'll either love it or hate it. But for those that has big enough wrist that can wear such big watches, it's definitely going to look great on them.
Having deep history roots with the Italian Navy, Panerai is also one of the watchmakers that first utilized radioisotope as watch lumes, specifically the substances Radiomir (Radium-based) and Luminor (Tritium-based). Both of these had great impact on watchmaking and paved the way to the use of safer lume paints nowadays.
40) Credor
Link to website: www.credor.com
Origin: Tokyo, Japan
Price range: $6,000 to $200,000
At the pinnacle of Japanese watchmaking, sits Credor, a sub brand of Seiko. In a way, Credor and Grand Seiko are cut from the same cloth as both will use the same Seiko movements (either mechanical or spring drive) and some of them actually come from the same factory.
But perhaps the biggest difference between these two that I can see is their design language is different. While Grand Seiko has a distinctively Seiko's design format (e.g sharp sides, clean cool look), Credor watches typically is less pronounced and not as Seiko-like. Perhaps it's their intention after all to make their watches different to please different markets – which will fit well into the reason why they created a totally different sub-brand in the first place.
Which one is better? Honestly it will really depend on the watch. For example, the Credor Eichi II and Grand Seiko 8 Day are 2 similar watches. Of course, they are different in terms of looks but are actually made from the same factory and have the same price range. Without a doubt, getting any one of these 2 watches will be a good deal but then again, it will depend on which watch's look/design that you like the most (for me, it's the Eichi II with gorgeous white dial and blued hands).
In terms of pricing, Credor and Grand Seiko watches are usually priced within the same range – but do bear in mind Credor are not readily available outside of Japan so it will cost you more to buy it. It seems that Seiko only wants to push Grand Seiko as their representative in the luxury watch department. But in terms of the most luxurious Japanese watch, Credor will take the lead. For instance, their Credor Node Minute Repeater cost a whopping $200,000!
41) Baume & Mercier
Link to website: www.baume-et-mercier.com
Origin: Jura, Switzerland
Price range: $2,000 to $20,000
The next Swiss automatic watch brand in this list is Baume & Mercier. It's one of the older brands, having been founded in 1830 – a good 189 years ago. The brand was originally called "Frères Baume" as it was the brothers Louis-Victor and Célestin Baume that founded the brand in Jura. It was not until 1918 that the brand name changed into Baume & Mercier as Baume's successor, William Baume partnered with Paul Mercier and relocated the company to Geneva.
Currently, the brand is one of the luxury watch brands under Richemont Group, and targets the middle luxury space. In terms of design, Baume & Mercier gravitates towards the normal classical dressy watches that you just can't go wrong in choosing them. Their watch line ups such as Classima, Clifton and Linea have the basic designs, the Capeland watches is sportier with chronographs/worldtimer/GMT and Hampton with square shaped cases.
42) Jaeger-LeCoultre
Link to website: www.jaeger-lecoultre.com
Origin: Le Sentier, Switzerland
Price range: $7,000 to $200,000
Considered one of the important watchmakers in history, Jaeger-LeCoultre is definitely one of the watch brands that fans need to know about. Like many watch brands nowadays, the brand historically was a combination of 2 different entities, that of the LeCoultre & Cie watchmaking workshop founded by the Swiss Antoine LeCoultre in 1833 and Edmond Jaeger, a French watchmaker. The official union of both parties were done in 1937, giving birth to the current Jaeger-LeCoultre. As of now, the brand is under the Richemont Group.
Jaeger-LeCoultre has been credited with being a watchmaker's watchmaker, having been a movement supplier for many brands, including the holy trinity of Patek Philippe, Audemars Piguet and Vacheron Constantin – now that's quite a resume, mind you. In addition to that, the brand also has a huge amount of calibers under their archive (more than 1200 calibers as claimed by them) and various important horological inventions that made them an important figure in watchmaking.
The brand has many popular and beautiful watches in its stable such as the Master, Rendez-Vous, Polaris but one watch will always be associated with them: the Reverso, created in 1931. The Reverso is a rectangular shaped wrist watch that has one very unique feature: it can be rotated to hide the dial. As the story goes, Jaeger-LeCoultre was asked to produce a watch that is able to withstand hard impacts during a game of polo.
Rather than making the dial and case stronger, Jaeger-LeCoultre designed a watch that the wearer can flip the dial 180 degrees via a hinge design. This will make the glass surface of the watch facing the inside backing, and the caseback of the watch on the top – protecting the watch from impacts. In addition, the caseback can be personalized making it an even unique watch. Till today, it's novel feature is still one of the most interesting concepts in an automatic watch.
43) Cartier
Link to website: www.cartier.com
Origin: Paris, France
Price range: $5,000 to $200,000
Perhaps to most, this next watch brand is more popular for being a jewelry maker instead of a watchmaker. However, in addition to jewelry, Cartier do have a rich history in watchmaking, having been involved in it since its founding in 1847 by Louis-François Cartier in Paris, France. It currently resides under the Richemont Group.
Cartier is one of the most prestigious jewelry manufacturers in the world, having had hundreds, if not thousands of customers from the rich, famous and royalties throughout its long 172 years of history. In fact, King Edward VII of Great Britain once called Cartier as "the jeweler of kings and the king of jewelers" do to its huge swathes of innovative and beautiful jewelry pieces.
As a watchmaker, Cartier traditionally outsources watch movements from movement makers such as Jaeger-LeCoultre (and formerly the LeCoultre workshop), Piaget, etc and fitted it into their case. This changed during the 2000s as Cartier invested into in-house movement making and successfully with various innovative mechanical movements coming out from them every year. However, these movements are usually reserved for their higher end watches while their entry level ones usually were fitted with movements based on ETA/Sellita.
Some popular models from them are the Tank, Santos de Cartier and Mysterious watches. The Tank is a rectangular shaped watch that looks really sleek with small width (so called Tank due to its similarity with actual tank..). This is different than the more squarish Santos de Cartier watch, which has a rich history being one of the first wristwatches made for men in 1904 for aviator Alberto Santos-Dumont.
But the model that I'm personally most fascinated at? That should be the Mysterious watch. Originally invented in the early 1900s in the form of a clock, the Mysterious watch evolved into a wristwatch, and what a watch it is (look at it for yourselves here). It's fascinating how Cartier managed to make a watch with transparent movement (though the secret is the "hands" were actually part of transparent sapphire discs that are rotated by the movement). Although other watchmakers did manged to recreate the same thing, none of it can compare with the original Mysterious watch.
44) Breguet
Link to website: www.breguet.com
Origin: Paris, France
Price range: $10,000 to $150,000
The top echelon of fine watchmaking is usually filled with brands with rich history, and Breguet is no exception. Founded in 1775 (244 years ago!), Breguet is as old a watch brand that you could have. It was founded by Abraham-Louis Breguet in Paris and remained the Breguet's family company until the end of the 19th century when it's ownership changed to the Brown family. Turbulence during the modern era saw the company's ownership to change a few times until it settled into the Swatch Group in 1999 till today.

From its inception, Breguet had been at the forefront of horological inventions, most notably credited with creating the
tourbillon
in 1795. It was a novel invention then, and is still today. In a tourbillon, the balance wheel and escapement are located in a cage that will slowly rotate over time. The idea is with a rotating balance wheel, the effect of gravity pull will be cancelled out hence improving the accuracy of the watch. The fact that Abraham-Louis Breguet thought about this in 1795 is mind-blowing as it's so much ahead of its time!
Although current watchmakers had been able to create accurate watches without tourbillon with the help of technology, tourbillon is still one of the centerpiece of automatic/mechanical watchmaking. I mean, who wouldn't fell in love when your watch can show a rotating balance wheel right? It's also a sign of watchmaking expertise, hence the reason why many brands love to showcase their tourbillon movements.
Breguet watches have some of the most distinctive character from a brand, thanks to its long running tradition and being a very old watchmaker. For instance, hands with open circular tip are called Breguet hands due to the fact that it was Breguet who used and popularized it first. This hand is currently used on almost all current Breguet models (the Classique, Tradition, Heritage) except for the Type XX/XXI/XXII military/aviator watches. Other elements such as Breguet numerals and case fluting can also be found regularly on their watches.
45) Hublot
Link to website: www.hublot.com
Origin: Nyon, Switzerland
Price range: $8,000 to $150,000
What do you say to an expensive watch with 18k gold case but having a rubber strap? Totally illogical right? What if I say such a watch do exist and it also has a garish looking, totally not in coherence with the traditional classic dress watch look? You might say that I'm a fool but I kid you not – Hublot watches are all like that, with the caveat that they did it so well so much so the watch is really cool to look at.
Founded in 1980 by  industry veteran Carlo Crocco, Hublot design language is one of the weirdest in horology. I mean why would someone make a gold watch only to pair it up with rubber straps? Turns out Crocco was behind all this as he wanted the strap for his watches to be black. But of course, Hublot's rubber strap is not your run of the mill strap – it's a high end strap with various finishing ranging from simple matte black to leather cover even to jeans, all can be had in various colors!
Hublot's watches are also distinctive. The use of octagonal shaped case with exposed screws on it bring a very industrial look to it, which I admit is very cool to look at. Fun fact: Crocco actually wanted his watches to look like a porthole (the windows of a ship with exposed screws) which is why he named his brand Hublot (or porthole in French). This peculiar combination of watch design and rubber strap are coined as the art of fusion, something that Hublot had build up till today with their newer watches such as the Fusion and Big Bang.
Indeed, Hublot is definitely not the brand for those that want an understated elegance and sleekness usually associated with luxury watches. I mean, those big watches with fancy color schemes will definitely attract attention. But then again, the brand never intends to make watches like the older brands of horology – they were only conceived just 39 years ago after all! Hublot is a young watch brand, and their watches showcases that perfectly. After all, it would be quite boring if all watches look the same right?
46) Piaget
Link to website: int.piaget.com
Origin: Jura, Switzerland
Price range: $10,000 to $100,000
Piaget originally was a movement manufacture, from its inception in 1874 by its founder, Georges Edouard Piaget. Its movements were sought after by many luxury watch brands. But just like Jaeger-LeCoultre, it began to venture into making whole watches starting from the 1940s, which undoubtedly helped to raise its status as one of the few vertically integrated watch company in the world.
Currently residing under the Richemont Group, Piaget is well-known for its ultra-thin automatic & mechanical watches, with 2 to 3 mm movement thickness, making the actual watch about 3 to 4 mm! Such an effort is extraordinary especially considering they invented these movements (Calibre 12P and 9P respectively) in the 1960s – without the help of accurate steel cutting technology that we have today.
Till today, their ultra-thin watches are at the forefront of Piaget's collection within their Altiplano watches, with various designs and complications. For those that want something different, there's the majestic Emperador in either rectangular or squarish cases with jeweled case and dial.
47) A. Lange & Söhne
Link to website: www.alange-soehne.com
Origin: Glashütte, Germany
Price range: $10,000 to $500,000
One of the most sought after Germany watch brand is A. Lange & Söhne, which literally means A. Lange and Sons. The brand was founded in 1845 by Ferdinand Adolph Lange (hence the "A. Lange") in Glashutte as A. Lange & Cie. It was not until 1868 when Lange's sons (Emil and Richard) joined the watchmaking company and the brand name changed into A. Lange & Söhne.
It's history is not as smooth sailing as other watch brands though. In 1945 during the WWII, Lange headquarters were bombed by the Soviet and completely destroying it. In 1948, Lange and several other watchmakers were nationalized and merged into the VEB Glashütter Uhrenbetriebe, and wiping out Lange's name on their watches since then.
Fortunately, the brand came back into existence after the reunification of Germany. Walter Lange (A.Lange's gread-grandson) and Günter Blümlein re-established the brand in 1990. From then on, the watch brand changed ownership and become part of the Richemont Group till today.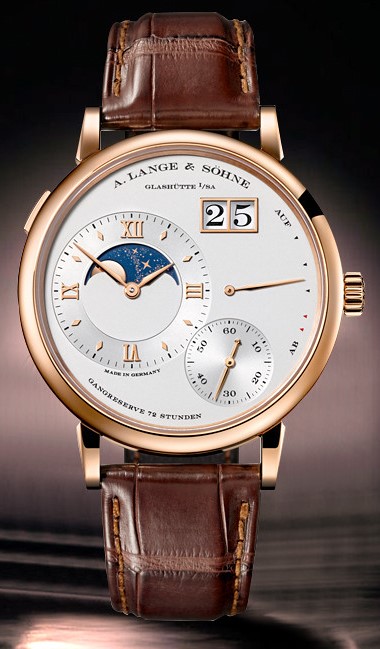 Like other top watchmakers, Lange's history is filled with outstanding innovations and creations that helped furthering watchmaking technology over the years.
Since their re-establishment, their watch lineups are rather small and concentrated, which can be attributed to its low number of production per year.
Among their current lineups, my attention were squarely on the Lange 1 models, featuring very distinct asymmetrical dial layout. There's the main minute and hour dial, then you have the seconds hand subdial, a subdial for power reserve/moon phase/AM-PM and there's the date indicator. This watch is as unique as it can be, all the while being well placed and outstandingly good looking.
Want to get more fancy watch? Then perhaps the Zeitwerk might get your attention. Long before digital watches came about, Lange had been producing watches with watches with digital numeral display with the Zeitwerk. In actuality, the watch is still a mechanical watch but instead of normal hour and minute hands, they placed counters to show time (much like the typical day/date displays nowadays).
48) Audemars Piguet
Link to website: www.audemarspiguet.com
Origin:  Le Brassus, Switzerland
Price range: $20,000 to $1,500,000
Audemars Piguet is one of the rarer watch brands. Having been founded in 1875 by the duo Jules Louis Audemars and Edward Auguste Piguet, the company is still being owned by both families, making it independent of the few luxury groups that control most of the watch brand nowadays. Well, being a very sought after watchmaker certainly did helped with them being independent.

Throughout history, Audermars Piguet have many inventions worth mentioning. For instance, the first minute repeater (a watch that can chime to tell time) was created by them in 1892. Since then, the brand had been releasing more breakthroughs in the form of complex watch movement making.
This article won't be complete if I didn't mention about Audemars Piguet's best selling watch, the Royal Oak. Originally conceived in 1972, the Royal Oak was one of the modern era luxury sports watch. It has a unique octagonal shaped case that was inspired by diving helmets. The case is the most interesting as it defies all the norms about a watch.
In addition to the non-circular case, there are no lugs with this watch. The watch has a unique case-strap/bracelet integration method in lieu of the usual lugs. The dial uses beautiful tapisserie guilloche design and can be had in many variation and colors.
Although they also have some other watches such as the Millenary, Jules Audemars and CODE 11.59, the industrious Royal Oak and Royal Oak Offshore (the bigger version with 42 mm diameter.The original has 39 mm diameter) both can be said to completely define Audemars Piguet watches in this modern era.
49) Vacheron Constantin
Link to website: www.vacheron-constantin.com
Origin: Geneva, Switzerland
Price range: $20,000 to $1,000,000
The next automatic watch brand is a name that might not need to be mentioned: Vacheron Constantin. Founded in 1755 by Swiss watchmaker Jean-Marc Vacheron, the brand only became Vacheron Constantin after François Constantin became partner in the company in 1819. It has the prestige of being the oldest continuously operating Swiss watch company. Currently, it resides under the Richemont Group.

Vacheron Constantin's motto "Faire mieux si possible, ce qui est toujours possible (Do better if possible, and that is always possible)" strikes a chord within me. I personally love it as it give the strong implication that we can always do better, always improving in all aspects of our lives. Perhaps that's what propelled the brand to push forward and giving us beautiful timepieces. This is exemplifies with their Reference 57260, which is currently holding the record as the most complicated watch in the world.
Now, the Reference 57260 is not a wristwatch but is a pocket watch, so it has more space to hold those complications. But then again, putting 57 complications (time measurements, tourbillons, perpetual calendars, Hebrew calendars astronomical calendars, chronograph, alarm, minute repeater and others) into the small footprint is no joke. To put things into perspective, the previous record holder is Patek Philippe Calibre 89 with 33 complications, 24 less than the 57260. Price? Undisclosed but some sources say it's around USD $10 Million.
Of course, they don't just make highly technical pocket watches. Vacheron Constantin has many wristwatch models that are popular such as the very sleek dress watch Patrimony, the highly technical Traditionnelle with complications, hybrid modern-traditional FiftySix, and the Métiers d'Art watches with gorgeous colorful art displayed on its dials.
50) Patek Philippe
Link to website: www.patek.com
Origin: Geneva, Switzerland
Price range: $10,000 to $1,000,000
And last but not least, Patek Philippe. Together with Audemars Piguet and Vacheron Constantin, they made up the 3 best Swiss watchmakers currently (the so-called "holy trinity"). One might argue to put in other watchmaker such as A. Lange & Sohne and Jaeger LeCoultre in there, but if you ask most watch fans which are the top 3 brands, the holy trinity names will be mentioned most often. And out of these 3, Patek Phillippe is usually going to be at the top. (again, opinion varies..)
There are many reasons for this high regard for the brand. For a start, they make really really great watches. Their craftsmanship are one of the best in the industry and they will not cut corners in any step of the process. Their designs are quite understated and not as flashy as other brands, but that's the Patek DNA for you.

In addition to the technicality of watchmaking, Patek Philippe is one of the watch brands that is investment grade i.e your watches will only go up in value. The reason for this is its high demand for its watches. As the world prosper, more and more billionaires were created and these high-net individuals would want the very best in watchmaking (association with various personalities and royalties certainly do contribute to this). To make things worse, it's manufacturing is quite constricted, at just around
62,000
pieces in 2018. That's the problem with luxurious products like this – you will need skilled craftsmen which will take years to be trained. No machine can do these kind of detailed workmanship.
Adding to the brand's glory, it also have the honor of having the most expensive watch ever in its Henry Graves Supercomplication. The watch is actually a pocket watch with 33 numbers of complications in it. It fetched a whopping $24 million in 2014 to an anonymous collector. It is a super-complication watch originally commissioned by Henry Graves Jr in 1933. With a huge amount of complications, it sets the high standard for a super-complication, no less due to the fact that it was manufactured without the aid of computer (CAD) such as nowadays.
Patek Philippe current watches are subdued and exemplifies the notion of discreet style. Without a doubt, there are some artsy models in their collection with colorful dials and jewels, but in general, their watches are sleek in appearance. At the center of their watch collection is the Calatrava, their basic dress watch. It's usually features a typical 3-hands dial but such simplicity is certainly outstanding – without a doubt a great choice as the basic foundation in any fan's watch collections.
Then they have the Nautilus, which kinda look like Audemars Piguet's Royak Oak and Hublot's watches, albeit with a cleaner aesthetics (it does not have the screws like others and have a sleeker design). Fun fact: the Nautilus was designed by famed Swiss designer Gérald Genta, who was also responsible for the design of the Royal Oak. Huh, no wonder both watches look alike!
Related Questions
What are the top 3 watch brands? The top 3 watch brands are Patek Philippe, Audemars Piguet and Vacheron Constantin – the so-called holy trinity of horology.
Why are automatic watches so expensive? Automatic watches are expensive due to the amount of material and workmanship needed to manufacture it, as compared to the mass-produced quartz watches. For luxury watches, the brands will employ high art watchmaking (or haute horlogerie) whereby precious materials and exceptional craftsmanship will be used causing its price to go way above our imagination.
Is buying a watch a good investment? In general, buying a watch as investment is not a good idea except you're buying a watch with very high scarcity value such as Rolex or Patek Philippe. A novelty is almost always a good fit for investment – the rarer the watch, the higher the price will increase in future.
Conclusion
There are lots of watch brands that you can choose from. Most of the brands in this list have a wealth of history, having been founded decades ago and have produced countless watches. But which one should you choose will depend entirely on your taste and price range.
My advice for those new with automatic watches is to buy cheaper ones first and see if you like it or not. Bear in mind that automatic watches are not as maintenance-free as some other bloggers would like you to believe. In fact, it will take more money and time to own one, because you need to pay close attention to it and maintain/service it, just like how you own other mechanical items such as cars (read more about automatic watch's characteristics in my post here). Thus, buying a cheaper one at first will help you to test the waters before making up your mind to buy more expensive ones.
I hope you like this article about automatic watch brands. Do let me know in the comments below what you think about it, and if I missed any brand.
Till next time. Cheers!